2019 was a remarkable year for organ and tissue donation. Generous gifts from donors and their families saved more lives than ever before.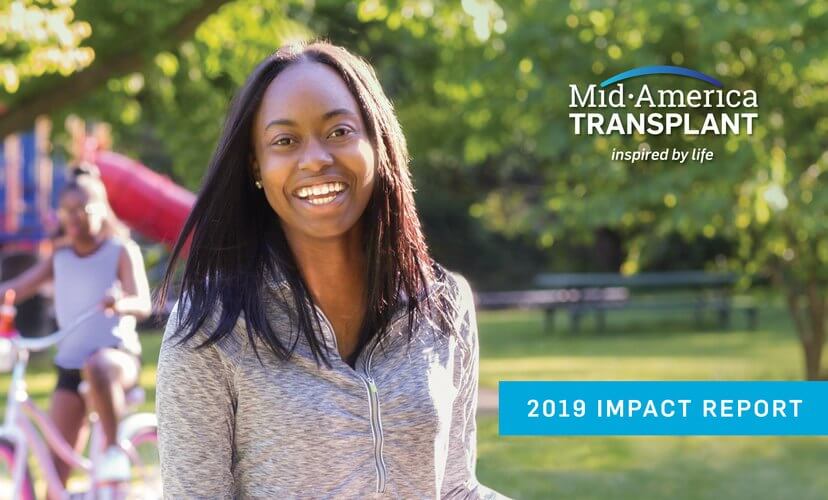 As I write this letter, 1,200 people in our region and 113,000 people across the U.S. are waiting for a lifesaving transplant. The hopes, dreams, and futures of these patients depend on the availability of safe and viable organ and tissue donations. Together with donor families and the medical community, we believe we can help end this critical shortage — and last year, we made significant progress toward that goal.
In 2019, a record number of generous donors in our service area made 761 organs, more than 165,000 tissues, and 1,082 corneas available for transplant. For patients like Steven and Elizabeth, these gifts meant the world. After kidney and pancreas transplants, Steven is pursuing his dream career in law enforcement. And thanks to a tissue donor's generous gift, Elizabeth is back to her lifelong love of gymnastics. You can read both of their stories in our 2019 Impact Report.
As stewards of these gifts, we have a responsibility to ensure that all suitable organ and tissue donations are available for transplant. In 2019, we pushed our industry forward with technological advancement, collaborative staffing models, and breakthrough clinical research through our onsite studies and the Clinical Innovation Fund.
Alongside these innovations, we continued our compassionate support of donor families and transplant patients. Across the region, we partnered with grief centers to provide much-needed access to counseling and resources for families coping with the pain of losing a loved one. We also welcomed our 199th guest to the Family House, a home away from home for patients awaiting transplant.
Looking ahead to 2020, we will continue to challenge the status quo and pursue our important mission to save lives through excellence in organ and tissue donation.
Together, we can create a brighter future!
Diane Brockmeier
President and CEO