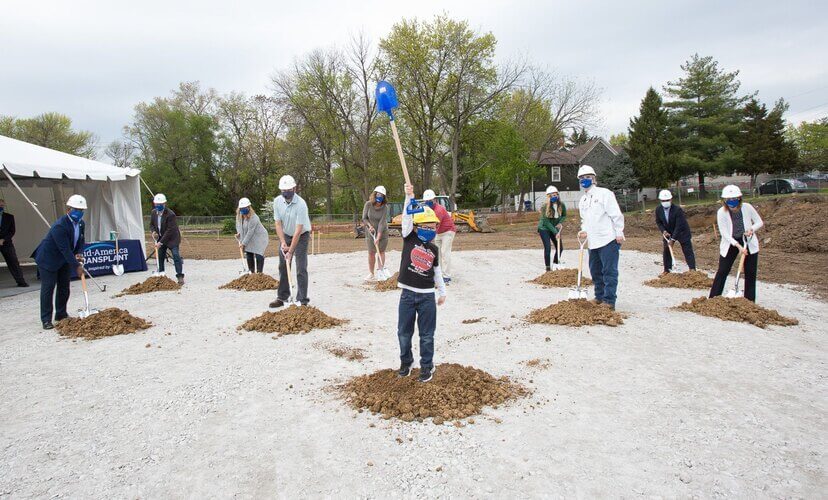 ST. LOUIS (April 23, 2021) – More patients waiting for and recovering from organ transplants will have a place to stay, thanks to a new, expanded Family House. Today, Mid-America Transplant's Foundation broke ground for the new 34,000-square-foot building, located in St. Louis. Construction will begin in April and the new Family House is expected to open next March, replacing Mid-America Transplant's existing Family House in the Highlands at Forest Park apartment complex.
"Many patients come to St. Louis for world-class medical care, but it can take months to receive and recover from a lifesaving transplant, and finding a comfortable, affordable long-term place to stay is a real challenge for families," said Nesa Joseph, Foundation board chair at Mid-America Transplant. "At Family House, families can stay together during this period and focus on what matters most – the health and recovery of the patient."
The new Family House will be in close proximity to St. Louis' four major transplant centers: Barnes-Jewish Hospital, St. Louis Children's Hospital, SSM Health Cardinal Glennon Children's Hospital and SSM Health Saint Louis University Hospital.
The $10.5 million project will be completed entirely by local contractors, architects and designers. The new Family House will feature 21 apartments ranging from one to three bedrooms, and each will have a private kitchen, bathroom, and washer and dryer. Other amenities will include wireless internet, cable TV and a community room. The vibrant neighborhood also will provide patients and their families with access to restaurants and Forest Park attractions, including a free zoo and museums.
"Family House enabled us to live together as a family with Liam's brothers – in fact, we brought our newborn son home to Family House," said Laramy Gregory of Poplar Bluff, whose son Liam received a heart transplant at two-years-old. "It became not just a home but an extended family as we developed a close support system with the other transplant families."
Mid-America Transplant opened its first Family House in 2013. Since then, an average of 40 patients and their families have stayed at the Family House each year, and the average length of stay is 94 days.
"The Family House is an important part of our mission to be stewards of our donors' lifesaving gifts," said Diane Brockmeier, president and CEO at Mid-America Transplant. "By helping to make transplants as successful as possible, our donors' legacies live on."
April also marks Donate Life month, a reminder to choose organ donation to provide lifesaving gifts to others. Register to be an organ donor at www.SayYesGiveLife.org.
About Mid-America Transplant
Mid-America Transplant enables adults and children to receive lifesaving gifts through organ and tissue donations. For more than 40 years, it has facilitated and coordinated organ and tissue donation, and now serves 84 counties covering eastern Missouri, southern Illinois and northeast Arkansas that together are home to 4.7 million people. It saves lives by providing expert and compassionate care for organ donors, recipients and families, and transforms the clinical processes required to recover and transplant organs and tissues. Mid-America Transplant was the first such organization in the U.S. to use an in-house operating room for organ recovery and pioneered innovative models of increasing donor registry enrollment in an effort to provide organs and tissues to those in need. It is federally designated as one of 58 such organizations in the U.S., and is the first organ procurement organization to be recognized as a recipient of the Malcolm Baldrige National Quality Award for Performance Excellence. For more information, visit www.midamericatransplant.org.