We are proud to once again be named as one of the Top Workplaces in St. Louis. The recognition comes from the St. Louis Post-Dispatch, which partnered with Energage, an employee survey company, to administer the survey and collect feedback from those who know us best: our employees.
"We're honored to be named a Top Workplace, but getting this open feedback from our employees is our real goal," said Kellie Resek, Chief Administrative Officer. "Every person at Mid-America Transplant plays a part in supporting our mission, and it is important that our employees are engaged and aligned in our work so we can have the greatest possible impact for our donor families, recipients and hospital partners. We participate in this annual survey to get insights into how we can continue to improve to provide an excellent workplace and ultimately save more lives."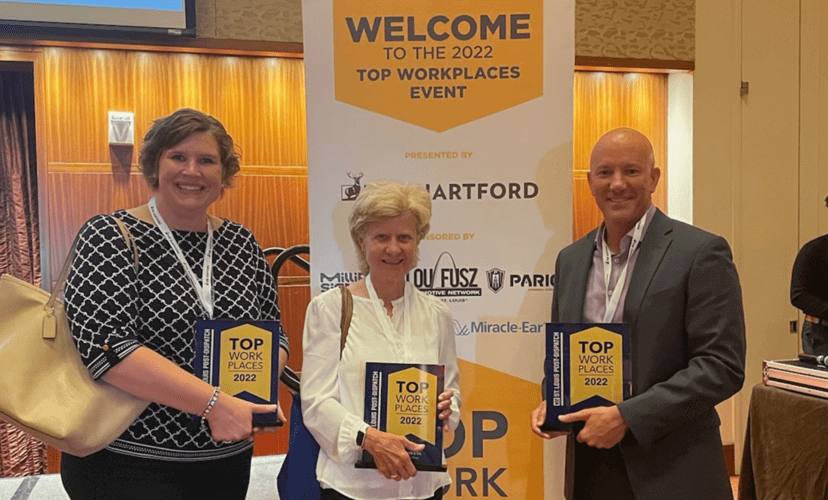 The survey once again showed that our employees are motivated by our mission-driven, lifesaving work of facilitating organ and tissue transplants and supporting donor families. They describe Mid-America Transplant as a compassionate organization that displays good stewardship in honoring the generosity of organ and tissue donors.
Mid-America Transplant was compared against other midsize organizations with 150-499 employees. In this group, Mid-America Transplant was awarded three culture badges for rating in the top 25% in the following categories: Meaningful Work, Innovation, and having a Trusted Leader. Energage also recognized us in the top employers in the nation for the Culture Excellence award of Purpose & Values.
Erika, Manager of Hospital Services, finds it rewarding to work in a mission-driven, compassionate organization. "What's amazing to me is how mission driven everyone is," she says. "At the forefront of everyone's mind is taking care of our donor families."  She also is energized by the organization's commitment to continuous improvement, stating "It never fails to impress me how much we innovate. I love how we are constantly looking for ways to be better and to push ourselves. There is always more to learn, and I appreciate that challenge and that demand."
If you're looking for a rewarding career that can help save lives, consider joining our team. View our current job openings.