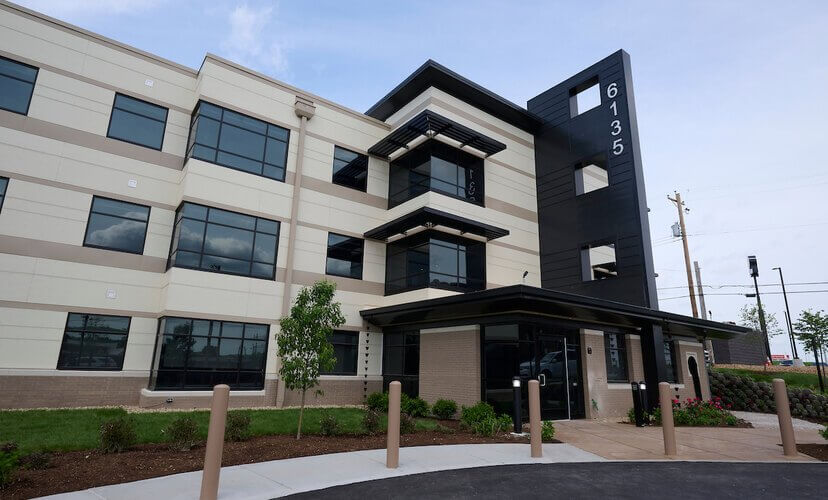 A Home Away from Home for Transplant Recipients and Their Families
Family House extends a warm "welcome home" to patients and families awaiting or recovering from a transplant. On May 18, our new and improved facility was officially dedicated, offering a home away from home to provide support and ease the burdens for transplant patients who must relocate to St. Louis to be close to the care they need.
The new Family House allows us to serve more than twice as many transplant recipients. After the groundbreaking in April 2021, construction on the 34,000-square-foot building was completed in just over a year and done entirely by local contractors, architects and designers.
Family House is the only facility of its kind in the United States that is operated by an organ procurement organization (OPO), with apartment-style living available to transplant patients and their families. The new Family House features 6 one-bedroom and 15 two-bedroom private apartments, each with a kitchen, bathroom, washer and dryer, and other amenities to provide comfort. This long-term living is provided at low- or no-cost, with most families paying just $15-$25 per day.
"We're offering a real home-like experience that's comfortable and safe. Family House is a place where patients can rest and heal close to the pre- and post-transplant care they need," said Diane Brockmeier, President and CEO at Mid-America Transplant. "As stewards of our donors' lifesaving gifts, is an important part of our mission to save and heal lives."
Rebuilding a Community
The Mid-America Transplant Foundation opened our first Family House opened in 2013. Since then, more than 250 recipients and their families have stayed during their transplant process, and the average length of stay has been about 100 days.
As we cautiously emerged from the pandemic to build this new Family House, we are rebuilding and expanding this vital community. Family House brings patients and families together from across the Midwest and across the United States. This is where they receive the support they need and a measure of relief from the cost and other burdens of their transplant journey.
"The fear of needing a transplant was overwhelming, but being able to recover in a place that was so comfortable meant the world to us," said Gary King, a lung recipient from Ridgway, Illinois, and resident at the first Family House.
Family House is designed so that guests have privacy but are also afforded the opportunity to enjoy community and connect with those who share similar experiences awaiting lifesaving transplants.  They can gather together in the respite and reflection room, outdoor patios, and a community room with a kitchen and full audio/visual equipment. The vibrant Dogtown neighborhood will provide patients and their families with access to restaurants and Forest Park attractions, including the zoo and museums.
A Place for Healing
One of the most important features of Family House is its close proximity to St. Louis' four major transplant centers: Barnes-Jewish Hospital, St. Louis Children's Hospital, SSM Health Cardinal Glennon Children's Hospital and SSM Health Saint Louis University Hospital.
"Many patients come to St. Louis for our world-class medical care, but it can take months to receive and recover from a lifesaving transplant. Finding a comfortable, affordable long-term place to stay is a real challenge," said Ellen Barnidge, Ph.D., Foundation board chair at Mid-America Transplant. "At Family House, families can stay together and focus on what matters most – the health and recovery of the patient."
How You Can Help
More than 100,000 Americans today are waiting for a lifesaving gift. Every day, 17 patients die while waiting for an organ. By registering as an organ or tissue donor, you can bring hope to patients and families who are holding out for a miracle. Learn more about organ donation at SayYesGiveLife.org.