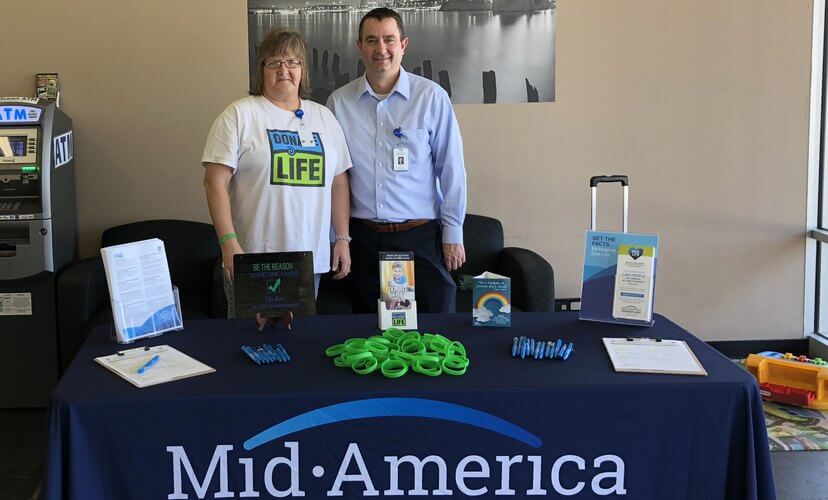 Donate Life America (DLA), Donate Life State Teams and Mid-America Transplant are dedicating the week of September 23-27, 2019, to saying thank you to Motor Vehicle Departments (DMVs) across the country for their commitment to asking the donor registration question to DMV customers every day. The vast majority of donor registrations in the U.S. come through DMV and driver's license partner transactions. DMV offices and their employees play an invaluable role in increasing the number of registered organ, eye and tissue donors. Through their dedication to the Donate Life mission, DMV leadership and staff help save and heal lives.
National DMV Appreciation Week is a one-week celebration held each year in the last week of September. During this week, the Donate Life Community celebrates this vital partnership through local events and outreach expressing gratitude to DMV and driver's license partner staff and leadership across the country.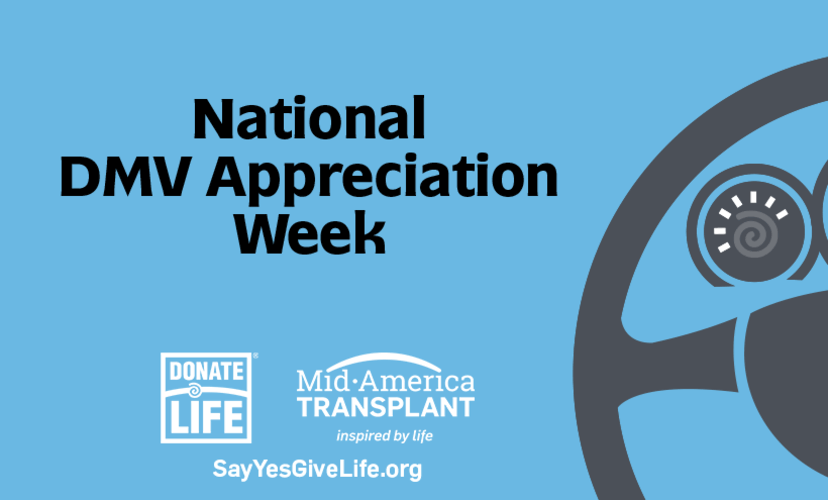 Mid-America Transplant will be celebrating National DMV Appreciation Week by recognizing local driver's license offices. Recognition will acknowledge office efforts and individual dedication to successfully increase donor registration and overall support of the organization's lifesaving mission: to save lives through organ and tissue donation.
Donate Life America also announced it named Illinois Secretary of State Jesse White as the national recipient of the DLA DMV Innovation Award. The Innovation Award recognizes a DMV or driver's licensing partner (DLP) office(s) that has implemented a unique and engaging event, activity or practice that demonstrates how the Donate Life mission is a part of their DMV or DLP office culture. Sec. White will be recognized at the 2019 AAMVA International Conference (AIC). 

To register your decision to be an organ, eye and tissue donor, please visit your local DMV or driver's license partner office, or register online in the National Donate Life Registry at SayYesGiveLife.org or in your iPhone Health App. To learn more about the DLA DMV partnership and National DMV Appreciation Week, please visit DonateLife.net/DMV.
###
About Donate Life America (DLA)
Donate Life America (DLA) is a 501(c)3 nonprofit organization leading its national partners and Donate Life State Teams to increase the number of donated organs, eyes and tissues available to save and heal lives. DLA manages and promotes Donate Life℠, the national brand for the cause of donation; motivates the public to register as organ, eye and tissue donors; provides education about living donation; manages the National Donate Life Registry at RegisterMe.org; and develops and executes effective multi-media campaigns to promote donation.