Staffing our call center 24/7, our Donor Services team plays a critical role in the organ and tissue donation process, from receiving and assessing referrals to working directly with families who are facing the loss of a loved one.
When an individual passes away, the death is reported to the local organ procurement organization (OPO). Mid-America Transplant receives about 33,000 referrals a year from across our service area, which includes 84 counties and 120 hospital partners.
These referrals are directed to our Donor Services call center, where Coordinators must evaluate each call for potential organ and tissue donation. Over the phone, Triage Coordinators ask a series of screening questions about the donor's medical history to determine eligibility. If the patient is a potential organ donor, the coordinator notifies the Organ Procurement Coordinator who contacts the hospital.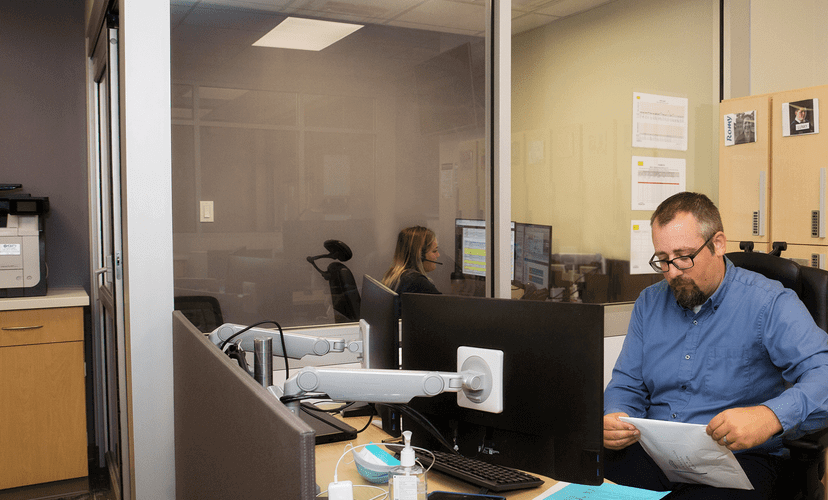 If the individual is eligible for tissue donation, a Donation Coordinator will reach out to the family to talk with them about whether they wish to donate their loved one's tissues. These coordinators are trained to approach families with empathy and kindness in this incredibly difficult time. Once the family authorizes for the gift of tissue donation, the coordinators in Donor Services complete paperwork and a medical social history review over the phone.
Next, the Triage Coordinator arranges to have the donor brought to Mid-America Transplant's onsite facility for tissue recovery. The Donor Services team is responsible for tracking and managing the number of donors in our facility at any given time.
Across Mid-America Transplant, there is a spirit of innovation, excellence, and discovering ways to provide a higher level of service to save even more lives. The same is true on the Donor Services team, where tissue authorization rates have risen steadily over the last decade through continuous improvements, both large and small.
In 2020, the Donor Services team worked with families and hospital partners to authorize 2,400 tissue donors who shared more than 175,000 tissues for transplant. These gifts forever changed the lives of recipients, while helping donor families heal, knowing that their loved one was able to help others. 
We could not do this lifesaving work without the expertise and empathy and compassion of our Donor Services department.