As an organization, Mid-America Transplant is never satisfied with the status quo because there are always more lives that can be saved. That commitment to continuous improvement has resulted in the organization earning the Malcolm Baldrige National Quality Award for 2021, which is the nation's only presidential award for performance excellence. In 2015, Mid-America Transplant was the first organ procurement organization to receive this prestigious award. By receiving the 2021 award – the first year of eligibility for repeat recognition – they become the organ procurement industry's only two-time Baldrige award recipient.
The award evaluates businesses and nonprofit organizations in seven areas defined by the Baldrige Excellence Framework: leadership; strategy; customers; measurement; analysis and knowledge management; workforce; operations; and results. Mid-America Transplant is a repeat winner of the award, no doubt in part because they have used the Baldrige Criteria for Performance Excellence to achieve sustained improvements across the organization.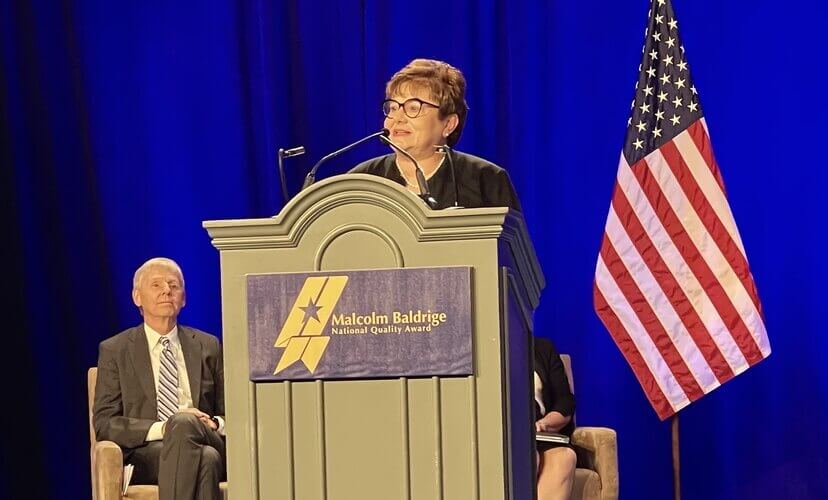 "We are honored and humbled to be recognized as one of the nation's role model organizations for quality and performance improvement," says Diane Brockmeier, president and CEO of Mid-America Transplant. "Everything we do goes back to our mission of saving more lives. We realized that while we were trying to improve as an organization, people were dying on the waiting list, so we adopted the Baldrige Excellence Framework in 2003." 
Adopting the framework has helped Mid-America become one of the top-performing organ procurement organizations nationwide, with more than 125 organs transplanted annually per one million population since 2017. Between 2003 and 2020, the organization showed a 167 percent increase in organs transplanted and a 385 percent increase in tissue donors, saving and healing thousands of lives.
"These award recipients demonstrate that a sustained commitment to quality management can lead to impressive results," says James Olthoff, who is performing the nonexclusive duties of the under secretary of commerce for standards and technology and NIST director. "I hope their accomplishments will encourage others to learn more about the Baldrige Program and how it can help them succeed in any industry."
"Before adopting the framework, we would have good years and not so good years and didn't know why," Brockmeier adds. "As we fine-tuned our processes, we asked things like 'how do we measure success? What does effective leadership look like? What are we doing to benefit society?' Anything you do that can be measured, is repeatable and drives results, makes you a stronger organization with improved outcomes."
Plus, Brockmeier says the visibility that comes from winning the award helps Mid-America become a leader in the organ procurement organization (OPO) industry. "It gives us a national stage to promote the greater organ donation mission," she says. "People don't really understand the process of donation or what the role of OPOs is when transplants happen. This helps us shine a light on OPOs and promote the greater good that donation is an amazing gift."
For Mid-America Transplant, everything always comes back to the mission. And as the leader of the organization, Brockmeier knows you're only as good as the people you surround yourself with. "The award is great, but the pride is really for my team - the remarkable group of people who serve this mission" she says. "I am humbled to serve with this group of individuals and to be their CEO. At the end of the day, we received this award because of the generosity of donor families and our team who is dedicated to saving lives."
Consider joining an organization committed to a lifesaving mission and find a rewarding career with Mid-America Transplant. View our current job openings.