After receiving a lifesaving or life-changing transplant, many recipients feel compelled to reach out to their donor family. 
Writing a note of gratitude can be a moving experience for you as the recipient. Your letter may also bring closure to the family that is mourning the loss of a loved one. The decision to donate is a personal one. If you do choose to reach out to your donor family, Mid-America Transplant can help facilitate the process. Below, find instructions and more information on the outreach process.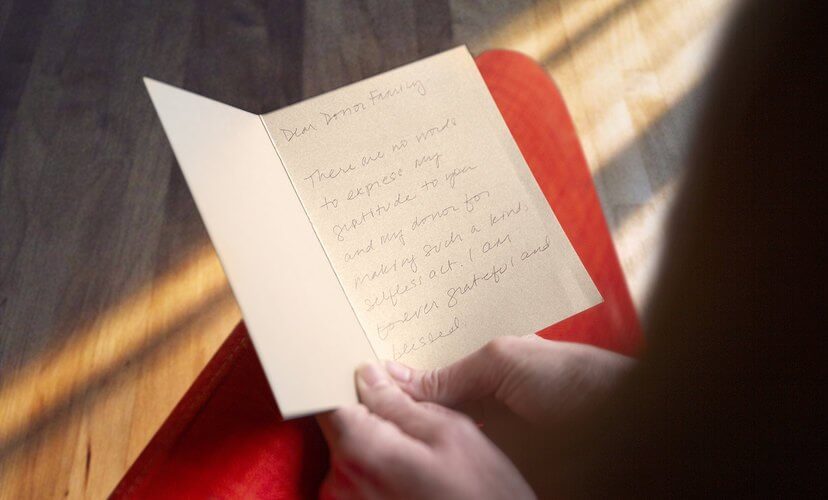 What should I include in my correspondence?
We ask that you follow these guidelines when writing about yourself or your loved ones.
Use first names only in the letter and closing signature.
You may tell your story and/or the story of your loved one and explain how the experience has changed your life.
You may include a photo of yourself and loved one, as well as details such as your loved one's state of residence, age, job, hobbies, and family (marital status, children or grandchildren), but identities must be kept confidential.
Please do not provide any specific identifying information such as address, city, phone number, email address, or last name.
On a separate sheet of paper, write your name, mailing address, date of donation, and where the transplant took place. This sheet will be for Mid-America Transplant use only and will not be forwarded with the correspondence. 
---
How should I send my correspondence?
If you are sending a physical letter, place the correspondence in an unsealed, unstamped envelope and enclose it in a mailing envelope addressed to Mid-America Transplant. A member of our team will review your letter to ensure confidentiality before forwarding.
Letters should be mailed to:
Mid-America Transplant
Donor Family Support Services
1100 Highlands Plaza Drive East, Suite 100
St. Louis, MO 63110
Correspondence may also be sent by email to: donorfamily@midamericatransplant.org. Please attach your letter as a Microsoft Word document.
---
How will I know if Mid-America Transplant has received my correspondence?
Our team will use the home mailing or email address you provide to send confirmation that your correspondence has been received and forwarded. 
---
How long does it take for Mid-America to forward a letter to the donor family or recipient?
On average, Mid-America Transplant forwards correspondence within three days of receipt. Please allow extra time for the holidays.
---
Will I receive a response to my correspondence?
You may or may not receive a response from the donor family. Some donor families have said that writing about their loved one and their decision to donate helps them in the grieving process. Other donor families, even though they are comfortable with their decision to donate, prefer privacy and choose not to write to the transplant recipients. 
---
Can I release my contact information?
Mid-America Transplant guidelines require that a donor family and recipient family exchange supervised correspondence one time before they request to release contact information. After this initial exchange, either party can request consent for release of information. Contact information will be released only when both parties have received and signed the release forms.