At Team Transplant St. Louis, our mission is to create a place where donor families, living donors, and transplant recipients can celebrate life, encourage organ donation, and become a resource for those affected by organ transplantation.
Who We Are
We are transplant recipients, donor family members, living donors, families, friends, and healthcare professionals from St. Louis and surrounding communities. 
Through life-threatening illnesses and other tragedies, we have found hope in raising awareness of the importance of transplantation and the desperate need for lifesaving organ, tissue, and eye donation.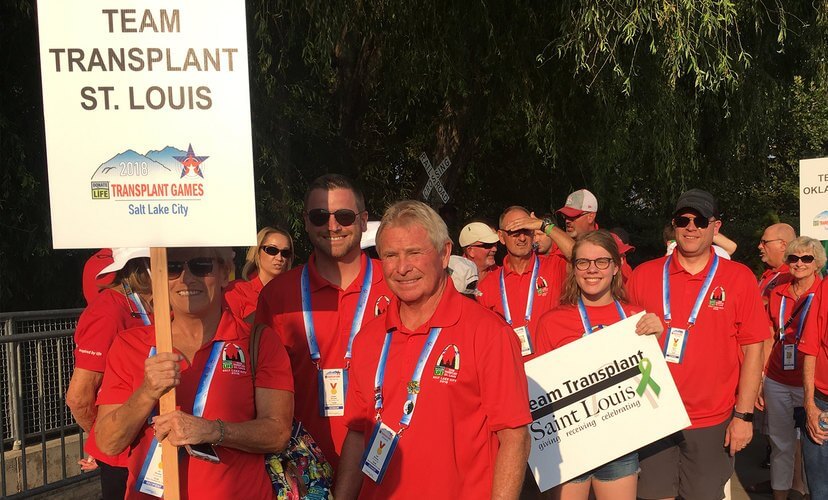 What We Do
Team Transplant St. Louis hosts activities throughout the year. Together, our goal is to honor those who have given the gift of life, raise awareness, and support the recipients, living donors, and donor families in our community.
Activities include:
Trivia night and other fundraising events

Social events

Donor awareness events

Participation in the Donate Life Transplant Games of America
Transplant Games
The Transplant Games aims to increase awareness of the importance of organ, cornea, bone marrow, and tissue donation through the lives of athlete-recipients and the lasting legacy of donors. This multi-sport festival is open to transplant recipients as well as living donors. In addition to sporting activities, many events are held for donor families and event supporters.
Events include:
Swimming

Track and field

Volleyball

Basketball

Bowling

Darts

Cycling

Tennis
Get Involved
To learn more about Team Transplant St. Louis, fill out the form below. Questions? Contact Karla Boresi at karlaboresi@mac.com or 314-910-7230.