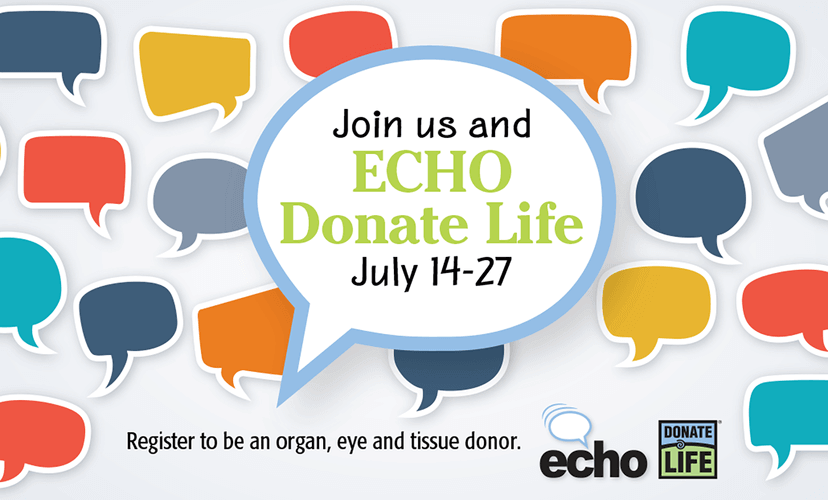 Celebrated July 14-27, 2019, ECHO Donate Life is an annual initiative focused on reaching multicultural communities with the Donate Life message. Currently, multicultural patients make up a majority of the patients waiting on the national transplant waiting list.
ECHO Donate Life is about community helping community to save and heal lives. Lifesaving conversations are best heard from trusted sources and communities. The goal of ECHO Donate Life is to provide multicultural communities with meaningful tools and resources to support conversations about the importance of donation and transplantation, and how to register your decision to be an organ, eye and tissue donor.
The ECHO Donate Life initiative engages trusted social media and community storytelling to talk about donation, highlights the importance of registering to be an organ, eye and tissue donor, honors the generosity of donors and donor families, and celebrates the lives saved in multicultural communities.
"Donation is the one thing that has the power to level the playing field in all communities, regardless of color, race, or religion. It's about every community helping every community through organ, eye, and tissue donation. Donation, in all its forms, in all its communities, has the opportunity to change and save lives," says Marion Shuck, President Elect of the Association of Multicultural Affairs in Transplantation (AMAT).
This year, ECHO Donate Life resources and outreach include:
Walgreens ECHO Donate Life In-Store Events: On Saturday, July 20, 9am-3pm, Walgreens will be hosting donor registration drives at more than 170 stores across the country. Walgreens has been an incredible national partner in ECHO Donate Life. Walgreens support has helped to bring resources and information about the cause of donation into hundreds of communities. In St. Louis, six stores are participating in this national event, including locations at:

4140 South Broadway
12098 Lusher Road
2202 Chambers Road
7199 Natural Bridge Road
3720 North Kingshighway Boulevard
1400 North Grand Boulevard
Resources: ECHO Donate Life resources and information (flyers, takeaway cards, web banners, social media graphics, videos) are available to the public for download at DonateLife.net/echo. Resources are available in English, Spanish and additional languages. Use the power of your voice to help build community by sharing your decision to register with family, friends, neighbors and coworkers. Encourage them to ECHO you and Donate Life.
Boomerang #ECHODonateLife Challenge: DLA and AMAT are excited to host the second year of the Instagram Boomerang #ECHODonateLife Challenge. Individuals and communities share a Boomerang video on Instagram about why donation is important to them and/or what transplantation has made possible for them. Tag @donatelifeamerica, use the hashtag #ECHODonateLife Challenge and encourage people to ECHO you and register their decision to be a donor.
You can register your decision to be an organ, eye and tissue donor in the National Donate Life Registry at SayYesGiveLife.Org or in your iPhone Health App.
Data from Organ Procurement and Transplantation Network (OPTN) as of April 2019.
###
About Mid-America Transplant
For 45 years, Mid-America Transplant has facilitated and coordinated organ and tissue donation, and now serves 84 counties covering eastern Missouri, southern Illinois and northeast Arkansas that together are home to 4.7 million people. It saves lives by providing expert and compassionate care for organ donors, donor families, and recipients, and transforms the clinical processes required to recover and transplant organs and tissues. Mid-America Transplant is federally designated as one of 58 such organizations in the U.S. and is the first organ and tissue procurement organization to be recognized as a recipient of the Malcolm Baldrige National Quality Award for Performance Excellence. For more information, visit www.midamericatransplant.org. 
About the Association of Multicultural Affairs in Transplantation (AMAT)
AMAT was established in 1992 to address the increasing need for organ, eye and tissue donors in the multicultural communities, while simultaneously offering support, shared expertise and professional development opportunities for its members as they save and heal lives. AMAT is a self-sustaining, self-governed organization operating solely on voluntary contributions from individuals, corporations, and other affiliated organizations.
About Donate Life America (DLA)
Donate Life America is a 501(c)3 nonprofit organization leading its national partners and Donate Life State Teams to increase the number of donated organs, eyes and tissues available to save and heal lives through transplantation while developing a culture where donation is embraced as a fundamental human responsibility. DLA manages and promotes Donate Life℠, the national brand for the cause of donation; motivates the public to register as organ, eye and tissue donors; provides education about living donation; manages the National Donate Life Registry at RegisterMe.org; and develops and executes effective multi-media campaigns to promote donation. For more information, please visit, DonateLife.net.