For Jenni and her family, a kidney transplant changed everything. After her husband's kidney stopped functioning properly, he was unable to travel and spend time with their children as he had before. The impact on the family's day-to-day life was tremendous.
When Jenni learned she was a match as a living kidney donor, she didn't hesitate. In 2009, she donated a kidney to her husband, and as a family, their quality of life improved dramatically.
"After my husband's transplant, he was able to do so much more," said Jenni. "We were able to travel and do things that we hadn't done in years, and then share things with our grandchildren and our children. It was really remarkable. They were such treasured times and he was thankful every day. And I am too."
Jenni's gift to her husband gave them another 10 years together. For the family, a living donor match provided the miracle they wished for. For many others, the national transplant waiting list is their only hope. Every 9 minutes another person is added to the waiting list in the United States, and of those waiting, 82 percent of those patients are in need of a kidney.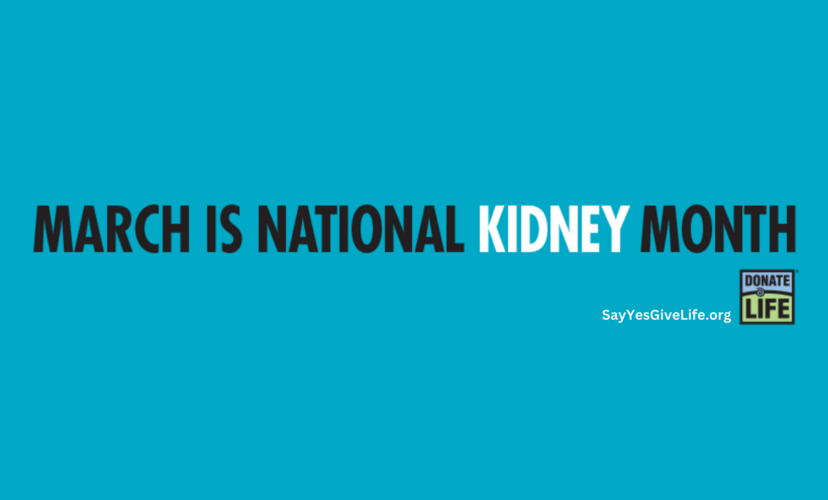 Why is National Kidney Month important?
National Kidney Month, celebrated every March, brings awareness to kidney health and encourages people to support kidney disease research. Normal functioning kidneys filter waste and perform vital functions that control things like red blood cell production and blood pressure. Over time, the kidneys can become damaged and sometimes with little or no physical symptoms to warn you that they are in trouble.
"Of the 37 million American adults estimated to have kidney disease, most don't know they have it. That's why taking care of your kidneys, especially if you are at risk for kidney disease, is vital," said Dr. Joseph Vassalotti, chief medical officer for the National Kidney Foundation.
The National Institute of Diabetes and Digestive and Kidney Diseases (NIDDK) provides resources to help fight against this "silent disease." The organization outlines three steps to help protect your kidneys:
Know your risk

Schedule your tests

Follow your kidney health
Experts suggest putting these steps into action right away because the earlier kidney disease is detected, the more likely you will be to treat it successfully.
When is a kidney transplant necessary?
Once an individual ends up in kidney failure (also called end-stage renal disease or ESRD), their kidneys can only function at a fraction of their normal capacity and they need either dialysis or a kidney transplant to stay alive. In addition to polycystic kidney disease (PKD), causes of kidney failure can include diabetes, chronic uncontrolled high blood pressure (hypertension), or chronic glomerulonephritis, which is an inflammation and scarring of the tiny filters within the kidneys.
National Kidney Month raises awareness for kidney transplants
Although National Kidney Month highlights the need for awareness around kidney disease, it's also a time to spotlight organ donation. Currently, more than 90,000 people in the United States are on the national transplant list waiting for a kidney. On average, a person who receives a kidney transplant can see their quality of life improve for the next eight to 20 years.
This March, the mission is two-fold: raise awareness about kidney disease and register as an organ, eye, and tissue donor. Jenni takes every opportunity to share her gratitude for all those who have given the ultimate gift. "I feel true appreciation for organ donors and their families," she said. Jenni knows that the decision to donate organs and tissue is about more than saving the life of one person. In her case, organ donation changed her family forever.
"It's not just one person that was affected," she added. "It was all of our family and friends who were touched by the transplant and the act of donation." And Jenni encourages everyone to become an organ and tissue donor. "Consider the gift of life whenever you can."
By registering as an organ, eye, and tissue donor, you can bring hope to patients and families who are holding out for a miracle. Sign up for the donor registry and increase the chance that patients waiting will get the transplants they need to survive.