The kind, soft spoken voice of Nikki is often the first thing people hear when calling Mid-America Transplant's Donor Family Priority Line. As the Donor Family Administrative Coordinator, she understands how sensitive those calls can be for donor families.
Some families want to hear about the recipient of their loved ones' organs or tissues. It can be an important way to help them process the loss. The decision to donate organs and tissues is the difference between life and death for many recipients.  When one person chooses to give the ultimate gift, up to 75 lives may be saved or healed by their generosity. "I remind them of that," Nikki says.
She understands the impact of the generosity firsthand because her own life was saved by organ donation in 2015.
A new lease on life after a successful kidney and pancreas transplant
Beginning at the age of 21, Nikki's Type 1 diabetes forced her to depend on an insulin pump for survival. But it wasn't until years later that her health took a more frightening turn. Her eyesight deteriorated, her blood pressure spiked, and low energy made everyday tasks overwhelming. In April of 2014, doctors diagnosed her with kidney failure. Fortunately, she was a good candidate for transplant.
After a successful kidney and pancreas transplant in October of 2015, Nikki  found that her life had changed.
"Everything that was going on before the transplant turned around. I had more energy. My high blood pressure was gone. My eyesight was better. The main thing, though, is that I am no longer diabetic," she said.
"I took that pump off the night before transplant surgery and never had another shot of insulin since. It gave me my life back."
Grateful for her second chance, Nikki became a dedicated Mid-America Transplant volunteer, sharing her story of hope in schools, churches, and online. In August of 2022, she joined the staff of Mid-America as the Donor Family Administrative Coordinator.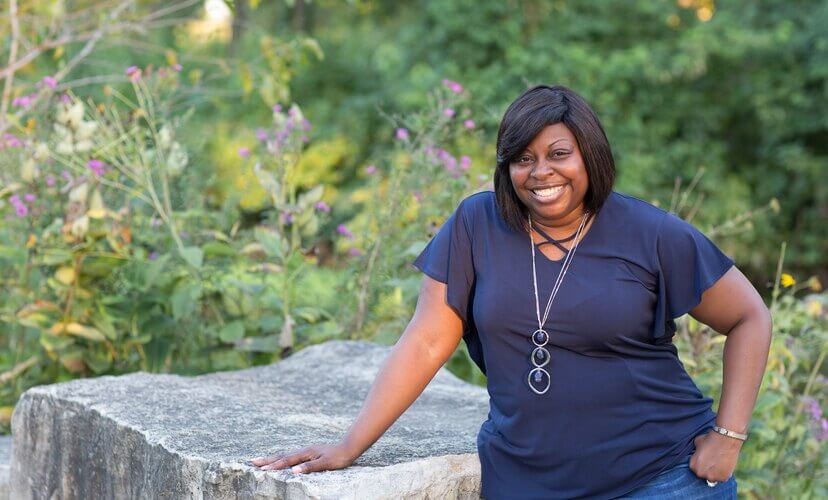 Raising awareness for organ donation in the Black community
Nikki is a passionate advocate for raising awareness about organ donation in the Black community. As February celebrates Black History Month, it's a particularly important moment to highlight the health disparities that exist in Black communities.
Members of the Black community make up 13 percent of the U.S. population but represent 28 percent of the national organ transplant waiting list. Black Americans are also three times more likely to suffer from end-stage renal disease.
According to Donate Life America, "increased diversity in the donor population can lead to increased access to transplantation for all, and the chance of longer-term survival may be improved if the donor and recipient are closely matched in terms of their shared genetic background."
When it comes to understanding the power of organ donation, Nikki said it's all about the stories.
 "Any time I can tell my story and get someone to think about registering, I'm willing to do it because there are a lot of misconceptions about being an organ donor, especially in the minority community."
Bringing the complex and sometimes intimidating topic of organ donation down to earth makes her job easier. "I just try to make it personal for them. That helps them to understand a little bit better," she said.
"I ask people, 'if that were your mother or your sister or your child, how would you feel if they were sick and the only way to save them was through an organ donation?' A lot of people haven't spoken to someone who's actually gone through it. Once you meet someone and hear their story, it gets their mind thinking."
Some people Nikki speaks to are surprised to hear that she received a double organ transplant. "I don't look like what I've been through," she said. Nikki's forthright discussion about her experience helps others see that all types of people receive organ transplants.
Consider organ donation because you can't take them with you
Nikki is a registered organ and tissue donor, but she made that decision long before the health struggles that led to her transplant. She first signed up to be a donor when she got her driver's license at 16.
She asks people considering organ donation a poignant question. "Why not let that be your last act of selflessness? After all," she said, "you can't take it with you."
Speaking with others about being an organ donor like Nikki is a powerful way to reduce stigma. Please consider telling your friends and family if you are an organ donor. By registering as an organ, eye and tissue donor, you can bring hope to patients and families who are holding out for a miracle and bridge the gap between the demand for organ donations and the availability of viable, lifesaving organs from diverse donors. Sign up for the donor registry and increase the chance that patients waiting will get the transplants they need to survive.