After Rocky received a lifesaving heart transplant at age 13, he was told by doctors that his condition was not genetic and would not be passed on. Years later, when his daughter became seriously ill at just eight months old, the medical team realized Lyla suffered from the same condition as her father. Like him, she survived because of the generosity of an organ donor.
Still, it was a terrifying ordeal for Lyla's family. "She was intubated and heavily sedated at only eight or nine months old. It's challenging to watch that for your own kiddo. To see it on the other side like my parents had with me, it was pretty powerful," said Rocky.
Fortunately, Lyla made a quick recovery after her transplant. Rocky recalls the same surprisingly short recuperation period once he received a healthy heart.
"The beautiful part about organ donation is that sometimes individuals are at their most sick because of one specific organ, and once they get the new organ, it's just amazing how quickly the body reacts. For me, the heart failure symptoms were gone within two weeks and it was even faster for my daughter. It's incredible to see how resilient children are."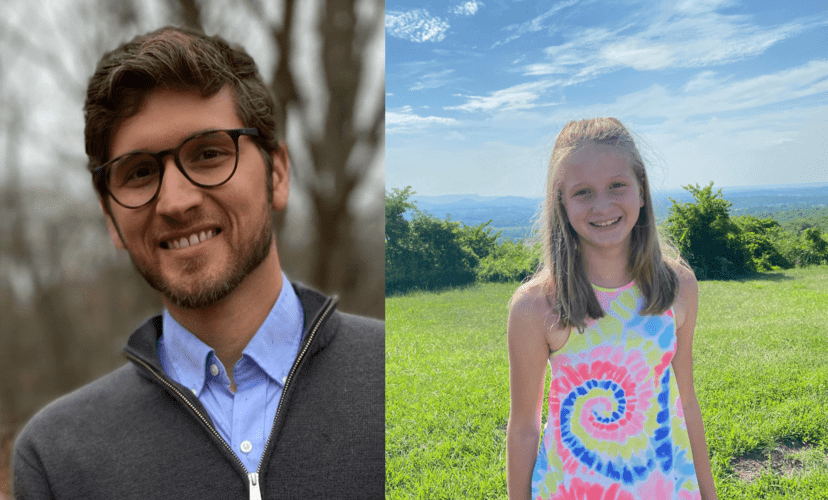 Why it's important to celebrate Blue & Green Day
National Donate Life Blue & Green Day, held each year in April as part of Donate Life Month, is an easy way to get involved in raising awareness about organ and tissue donation. By seeing others wear the colors blue and green, it may open more hearts to consider becoming registered donors. Rocky's family has, of course, seen firsthand how impactful organ donation can be.
When he was still a kid, Rocky's mother wrote letters to his donor family, and he keeps in touch with them now through social media. "For my daughter, it's been even more powerful," he said. Rocky and his family have met the immediate and extended family of Lyla's heart donor. He describes the meeting as provoking "every emotion you can imagine."
"Lyla is here because someone else is not, and so that's the tough part," he added. "But in our family, we speak a lot about just continuing that legacy for them. We talk about taking care of the organ that they've given us."
How you can get involved with National Donate Life Month
Blue & Green Day will be celebrated on April 14, 2023. The public is encouraged to wear blue and green on that day to promote the importance of registering as an organ, eye and tissue donor. Here are some other ways to celebrate National Donate Life Blue & Green Day with your friends and family:
Submit a photo to the National Blue & Green Day Photo Contest: Submissions will open Friday, April 14. Contest details can be found here.
Share on social media: Use social media to amplify the message of National Blue & Green Day. Check out sample posts here, and use the hashtag #BlueGreenDay to join the conversation.
Register as an organ donor: Take the time to register as an organ and tissue donor if you haven't already.
Don't forget to wear green and blue on April 14: Dress in green and blue to show your support for organ donation and transplantation.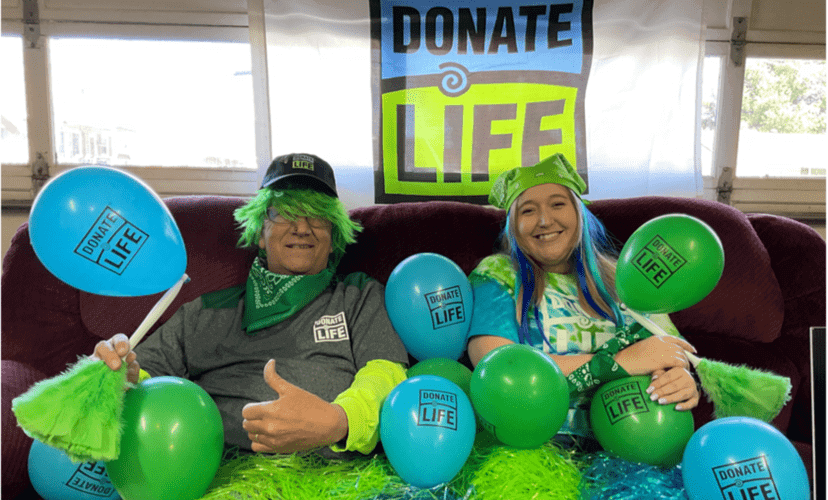 Businesses can also participate in the celebration by displaying flyers about National Donate Life Blue & Green Day in storefronts and posting images on company websites or in email signatures. Download the files here.
Inspired to do more? National Donate Life Month features a full lineup of activities designed to raise awareness around the mission:
Blue & Green Spirit Week (April 8-14): Each day of the week leading up to National Donate Life Blue & Green Day is dedicated to a special theme and will include recognizing donors, volunteers, and healthcare heroes, giving hope to those waiting and engaging the public in fun at-home activities.
National Pediatric Transplant Week (April 23-29): The powerful goal of National Pediatric Transplant Week is to end the pediatric transplant waiting list. Throughout the week, clinical partners will share their innovative work and patient stories, donor families whose children have saved and healed lives through organ, eye and tissue donation will be honored, and recipient families will share their gratitude and celebrate milestones.
Families like Rocky's are thriving because of the generosity of individuals who chose organ donation. "We're appreciative of that and so respectful of the individuals that have those conversations ahead of time and are prepared to make those decisions. Because the impact is providing life for so many people," he said.
Become part of a cause and a community that's greater than yourself. By registering as an organ, eye, and tissue donor this National Donate Life Month, you have the chance to leave a legacy of hope, healing, and renewal. Sign up for the donor registry and increase the chance that patients waiting will get the transplants they need to survive.