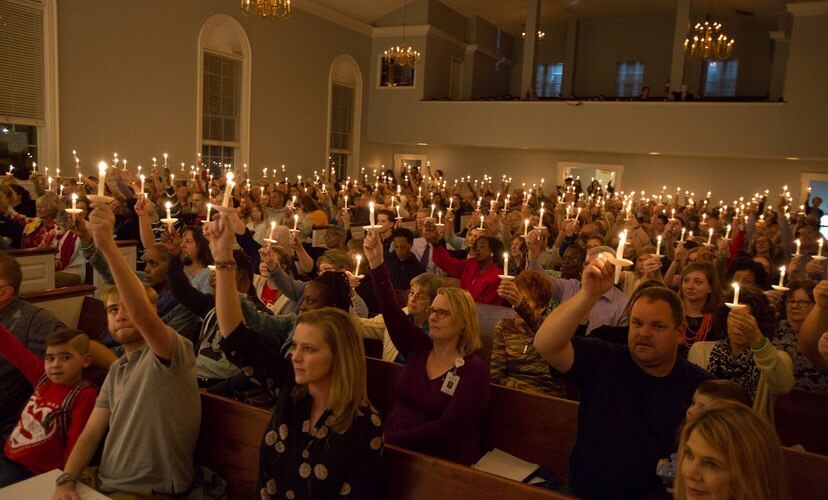 The twinkle of light from hundreds of candles filled Kirkwood Baptist Church Thursday night.  Lifted in honor of organ and tissue donors, the candles represented the shared light of hope given through the selfless and heroic act of organ and tissue donation.
A pause gave a moment to remember each of the 73 donors represented by family and friends attending the St. Louis Candlelight Memorial Ceremony, honoring donors who gave the Gift of Life in 2018.
Donors like Marnell Williams, who gave the Gift of Life in October 2018. His wife of 47 years, Arlena Williams, attend with family to honor his memory. "I wouldn't miss this for the world," she said. "He cared about everybody. It's just touching."
Marnell enjoyed fixing cars, TVs and other things. He was a supervisor for the St. Louis City Parks Department. "He was a beautiful person, inside and out," Arlena said. "A comical guy, clever, witty. Always kept you laughing. A good father, a good husband. Everybody loved him."
Tanya Wilkerson attended in memory of her brother, Tony, who was a donor in February of 2019 after a battle with muscular dystrophy. "He was so full of life, and always a fighter," Tanya said. "He was always so giving in nature. I loved him. He was amazing and resilient and so strong. This is one more way we can continue to share his legacy, one more way to honor him."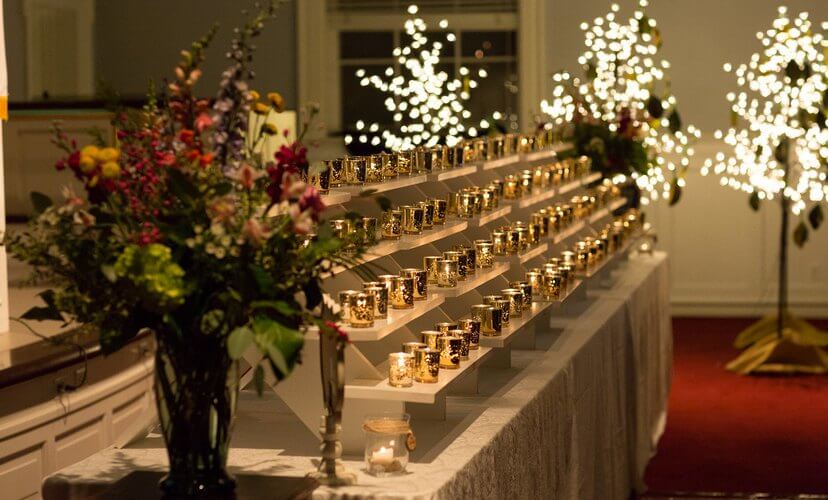 In the front corner of the church sanctuary, five brightly lit Trees of Life adorned with leaves inscribed with the names of each donor – like Marnell and Tony – represented at the event. In addition, hundreds of small candles, shined bright at the front of the church in honor of those who have given new life and hope to others.
The 337 people in attendance heard from Nikki Love-McIntyre, a kidney-pancreas recipient from SSM Health Saint Louis University Hospital. "I'm sure I speak for all recipients of organs and tissue when I say that your loved ones have saved lives, they have enhanced people's lives, they have given them their lives back," she said. "I honor them tonight, for making that decision, because it is the most selfless decision that a person can make, to save a life of another. God bless you."
Nikki received a lifesaving transplant in October of 2015. "I was able to get my health back, my life back," she said. "Transplant literally saved my life." 
Nikki told the audience of an important life moment she was able to experience because a hero like their loved one gave her a second chance. "Four months after transplant, I met my soulmate, Ryan. We were married in July of 2017. I strongly believe that would not have happened if I had not had a transplant."
For Nikki, she was grateful for the opportunity to say thank you. "To just be able to show honor to not only my donor, but to other donors," she said. "It's just an unselfish act, and they've saved lives. They deserved this time."
Kristie Grote, mother of 13-year-old, three-time liver recipient Megan, spoke of her daughter's transplant journey with St. Louis Children's Hospital. "There's not a day that goes by that I don't thank each of Megan's donors," Kristie told the audience. "She's accepted three livers that were not her own, and to look at her now, she doesn't look like she's gone through anything medical. That's the gift we received. We're thankful and grateful to be given the memories, and to be able to take her places and make more memories."
Because of transplant, Megan was able to go to school, dance, celebrate birthdays, play softball and make friends. "The beautiful part about transplants is that it brings so many people together," Kristie said. "It really shows the comradery of knowing that we're all there for each other.  We've met recipient families and many donor families over the years, and it's amazing how we've become this group that loves and supports each other."
Several other recipients attended in honor of their heroic donor. Doug Jones is a lung recipient, who was able to walk both of his daughters down the aisle at their wedding. Anthony Wiggins, a kidney recipient, is thankful for the opportunity to meet his first grandchild, born in January 2019. Bill Wiese is a bone recipient, thankful for walks through the zoo with his grandchildren. And Zachary Broeker is a 3-year-old heart recipient, thankful for playtime with his big brothers.
"We are beyond thankful," Zachary's mother, Amanda said. "I could never thank his donor's family enough."