Everything came full circle for Dee when her son, Robert, became a tissue recipient. After being diagnosed in October 2020, the procedure treated the scoliosis in his back.
"When it came time to talk about the surgery, I just figured they were going to replace it with rods which would straighten up his back," Dee explained. "I had no idea that he would be a potential donor recipient and receive bone grafts from an actual donor, let alone a donor from Mid-America Transplant, where I work. I immediately thought 'what a connection!' He got the surgery done and his spine is now straight to hopefully perfect as a result of the surgery."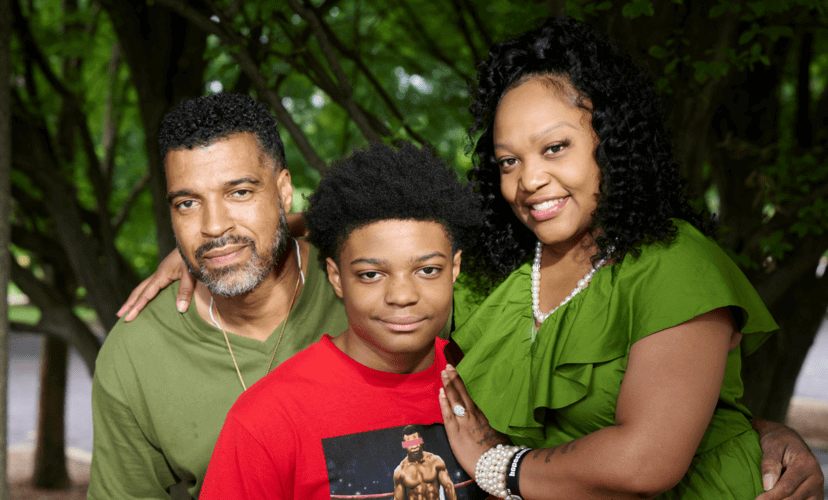 The experience made Dee feel that much more inspired by organ, eye, and tissue donation, a mission she's been committed to for a large portion of her career. "A little over nine years ago, I was the manager for the North Side DMV," she said. "I had been working for the DMV when Mid-America started operating it in 2013. I knew what organ donation was because I've been registered as an organ donor myself since I was 16. But I got to see how the goal of Mid-America Transplant was to come in and educate the public on the need for organ donation in the community, especially in the St. Louis community."
Before Mid-America Transplant took over the North Side DMV office, they had only a 12 percent registration rate, which means only 12 percent of the people who were asked to become a registered organ donor said 'yes'. Because of Mid-America's commitment to the mission, the registration rate is now around 37 percent.
"That is a huge increase," Dee added. "That is powerful in itself. And it was thanks to Mid-America Transplant coming in to not only educate our staff on the importance of organ donation, but also the community. And we were able to share that information with the public and make a difference." 
Dee admits having the staff educated first was key to the increase in the donor registration rate. "If we're not educated, then how can we have a conversation with customers?" she said. "My mission as a manager was to say 'hey, we're going to be as knowledgeable about this as possible so we can be able to answer questions from customers who don't know anything about organ donation.' A lot of people that came into the DMV would ask me to tell them a little bit about the process." At the end of the day, Dee knew that if more people were willing to become registered organ donors, then they had the opportunity to save more lives.
Seeing the tangible difference that she could make within the DMV and the overall conversation about organ donation inspired Dee to take a position as a community engagement coordinator with Mid-America Transplant. She is now in the aftercare and community engagement department as a donor family communications coordinator. 
"It's all about saving as many lives as we can and I'm passionate about that," she said. "I just want to encourage as many people as possible to make an informed decision to donate, and have a conversation with a loved one regarding your decision."
Now having a personal connection to organ and tissue donation because of her son, Dee says she's even more moved by the mission. "It makes me feel so blessed. It also makes me think about the whole process of donation, not only with our donor heroes, because our donor families are the most generous people that you will ever meet, but from the recipient side as well. There's a greater love for that now because my son is a recipient. It's awesome what we do here and the lives that can be saved and healed."
Dee is 100 percent on board with the mission, and she hopes others will be inspired to take the next step. "Me and my family will always remember the donor family's generous kindness of tissue donation. The tissue donor will forever be in my heart. All I'm asking is for someone to just have a conversation so they can make better informed decisions. Organ and tissue donation saves lives. And we want to be able to help as many people as possible."
Give the gift of life and sign up for the donor registry. You'll increase the chance that patients waiting will get the transplants they need to survive and have lives free from pain.