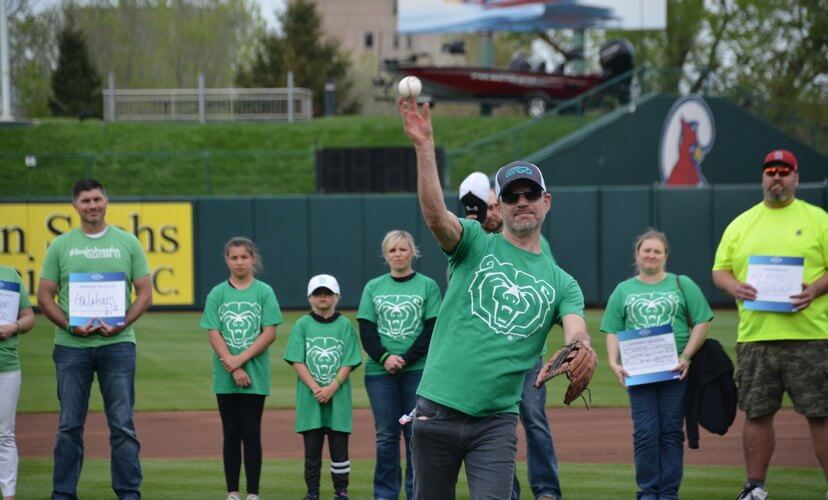 Gage Coble always looked to help others as a classmate, coach, friend. As a musician, he grew out his hair, not to look like a rock star, but to donate to cancer patients through Locks of Love. As a friend, he would sometimes ask for extra lunch money for classmates who didn't have lunch.
When Gage died in 2017 at 15-years-old, his giving nature made organ and tissue donation a natural decision for his family. On Tuesday night in front of 5,000 people, Gage's father, Dave, threw out the first pitch before Missouri State's baseball game in the second year of Mid-America Transplant's Green Up Game series. 
"When a family goes through what we went through, sometimes it's dark; sometimes it's lonely," Dave said. "To have the opportunity to come out for an event like this really reminds us of how important the impact is from the decisions we made."
With about 50 people – representing donor families and transplant recipients – standing in a semicircle between first and third bases behind the mound, Dave tossed a strike. "I think he would have been proud I threw a strike," Dave said of Gage. "I think he would have been overwhelmed by the number of families and the numbers of people helped through this program."
Gage's gifts are inspiring. He saved six lives through organ donation, gave the gift of sight to two people, and helped countless more through tissue donation.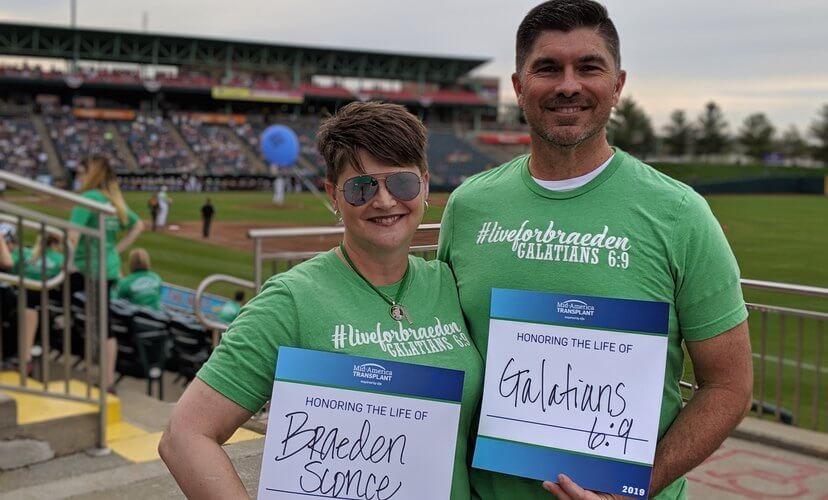 #liveforbraeden
Braeden Sconce's family and friends were among the crowd surrounding Dave for the first pitch. Braeden's family attended to honor the 19-year-old who helped 24 people in 23 locations in the United States and South America as an organ and tissue donor.  
"He was a passionate organ donor," said Shelly Sconce, Braeden's mother. "He signed up, without question, when he got his license. And always advocating for it, so it was very natural for us to donate."
Braeden was in a car accident on Highway 5 near Lebanon, Mo. in 2018. He was in the hospital for 23 days after the accident.
The family wore green shirts Tuesday, inscribed with #liveforbraeden and the Bible verse he lived by: Galatians 6:9 Let us not become weary in doing good, for at the proper time we will reap a harvest if we do not give up.
"For 23 days, we thought his harvest was going to be recovering from the injury and preserving," Shelly said. "But he had a different story. God had different plans, and his perseverance and his harvest is in the lives of 24 other people and everyone that he came into contact with."