Spirituality and religion can help people find solace and meaning during life's most difficult times, whether facing the death of a family member or experiencing illness. For many donor families, the knowledge that their loved one's tissues and organs have transformed another person's life can be a comfort in a time of grief.
All major religions in the U.S. support organ donation as a final act of compassion and generosity. Each November, Mid-America Transplant celebrates this generosity during National Donor Sabbath, a three-day national observance that provides an opportunity to bring the organ, eye, and tissue donation mission to congregations and communities across the country.
The event brings together faith leaders from many religions, donor families, transplant recipients, and professionals working in donation and transplantation. Community members participate in services and programs to educate the public about donation and transplantation and encourage people to register as organ, eye, and tissue donors.
Working with Faith Leaders to Bring Awareness
For many people, a faith community can play an important role in the decision to register as an organ donor or to consider becoming a living donor. On Nov. 2, Mid-America Transplant will celebrate National Donor Sabbath with a Facebook Live featuring a panel of rabbis, reverends, and pastors from hospitals around the Midwest.
"The goal of this event is to work together with faith leaders to raise awareness about the lifesaving and healing gift that is possible through organ and tissue donation," said LaKeisha Coleman, manager, Aftercare and Community Engagement for Mid-America Transplant. "Together, we want to encourage the community to register to be donors and celebrate the gift of life."
The discussion will touch on the important role that faith leaders have in the process of organ donation. There will also be an opportunity to encourage other colleagues to share the message with their respective congregations.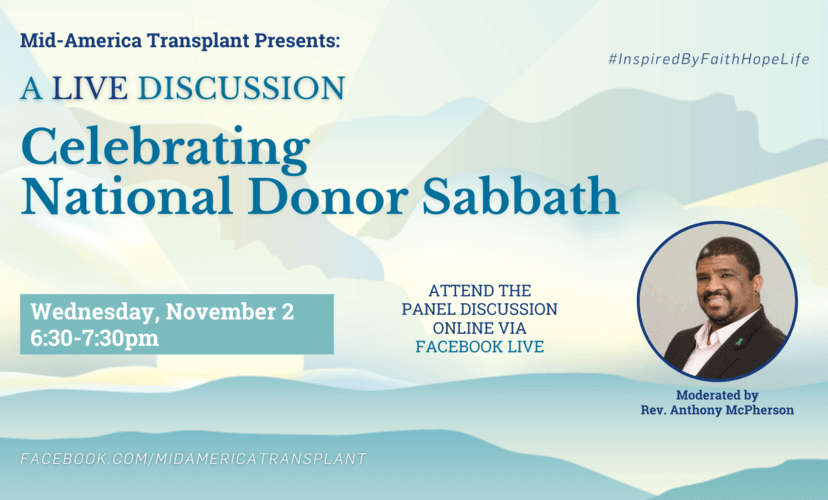 All Major Religions Support Organ Donation
Despite a relatively common misconception to the contrary, all major religions in the U.S. do support the transformative and lifesaving gift of donation and transplantation.
Knowing the viewpoints for a majority of faith denominations can help make the decision to donate easier. Of course, the decision to donate is left up to the individual or the donor's family but is often highly supported by the denomination. The one thing to keep in mind is to make sure your family knows what your wishes are beforehand, so they aren't faced with making a decision in a time of unbearable grief.
The conversation surrounding organ donation impacted Lisa Taake's family in more than one way. "My husband is a liver recipient, and my brother-in-law died about a year ago and he was a donor. We're a donor family and a recipient family," said Taake. "With my brother-in-law, whatever could be donated was to help save others' lives. We would never have talked about it had my husband not been a recipient. It's an important conversation to have."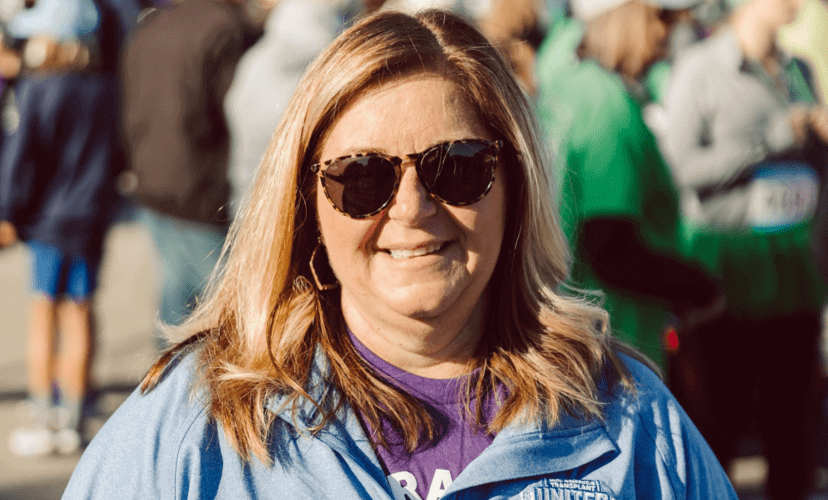 And while the loss of her brother-in-law came unexpectedly, Taake's family knows that their loss, however painful, has given others a new lease on life. Just like her husband. "We are so thankful for the donor family. My husband has been able to be at my kids' graduations, college graduations. My daughter got married a year ago today and he was able to walk her down the aisle because of his gift. Thank you doesn't seem like enough. We're very lucky. "
Be a symbol of hope for those waiting for a miracle
Across the U.S., more than 100,000 are waiting for a transplant, and 17 people die each day waiting for a lifesaving gift. Faith leaders are encouraged to support the generosity, humanity, and compassion inherent in saving lives through organ donation. Your efforts can celebrate the greatest blessing of all – life.
To get involved with this year's National Donor Sabbath, faith leaders are encouraged to incorporate prayer or a moment of silence for donor heroes during your services. Mid-America Transplant also offers materials that can be printed and displayed within your programs or posted on your virtual platforms. Our faith-based coordinator is also available to come onsite and speak about organ donation.
If you're wondering about your religion's viewpoint on donation, you can find statements and teachings on organ, eye, and tissue donation from some religions here, or talk to your local faith leader.
Sign up for the donor registry and increase the chance that patients waiting will get the transplants they need to survive.