Jennifer wanted to work for Mid-America Transplant almost immediately upon learning about the organization. "I had graduated from   the clinical laboratory science program at Mercy Hospital in St. Louis," she said. "One of my lab partners from Mercy got a job at Mid-America Transplant, and that's when I first learned about the organization. I told her, 'if you ever leave, I want your job.' Six months later, she was offered another opportunity and I applied for her job."
The career path Jennifer had taken up to that point prepared her to immediately make an impact within the organization. "I started working at St. Louis University as a veterinary technician in the Department of Comparative Medicine," she said. "I've always had an interest in science and thought initially that working with animals is what I wanted to do. But when I discovered the research component, I dove right in."
Jennifer learned lab techniques such as PCR while working in research, which is something she does in her role now with Mid-America Transplant. "I went from being a laboratory animal technologist to getting my ASCP certification as a medical laboratory technologist. I was very comfortable making that segue from research to clinical," she added.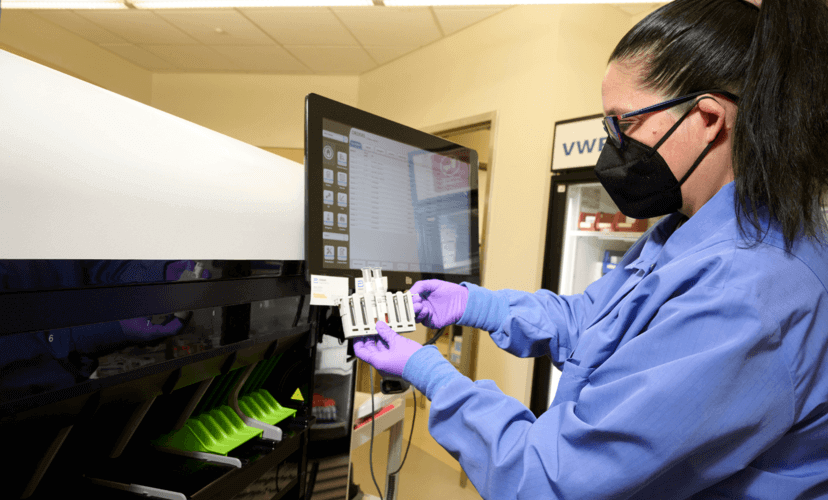 Having a research background also prepared Jennifer to be able to hit the ground running in an innovative environment. Laboratory technologists  with Mid-America do a lot of different testing . "In this job, you have the opportunity to be involved in a variety of aspects," Jennfier said. "The biggest difference for us is that we have six beds whereas in a hospital setting you might have 100 or 200. We need somebody who can do everything for that one patient.  We are providing almost everything a hospital would."
The nature of organ and tissue donation is such that time is of the essence and staff must be able to move quickly in order to steward the gifts of donor heroes. Jennifer says response time is critical in her job. Previously, Mid-America Transplant's donor management lab tests were conducted by an external lab.  By moving this function in house, turnaround times were reduced from 4-8 hours to just 30 minutes.  Jennifer says "The Donor Care Unit staff are getting lab results essentially right away to help them make decisions."
This efficiency benefits Mid-America Transplant's mission of saving more lives through excellence in organ and tissue donation. Jennifer says the mission is what originally drew her to the organization. "When I was in research at St. Louis University, the whole goal was to make discoveries in medicine, like finding a cure for cancer.  Here we are impacting lives in a different way." 
Jennifer's commitment to the mission was on full display once during one of her days off. "My phone buzzed early that morning and it was a call from work, somebody who was on the weekend staff had an emergency," she said. "We were unexpectedly short staffed and had a case in progress. And my thought process was, 'Do I want to help somebody get a kidney?' There was no hesitation. It's a life or death situation. That's what motivates me to come back every day because I know I'm making a difference."
When Jennifer became a part of the organization, it was clear to her that Mid-America Transplant couldn't do the work to fulfill the mission without an incredible team. They do everything they can to keep team members healthy, happy, and inspired. This culture of genuine care for colleagues was evident through Jennifer's experience with the DEI committee.
"They were having a discussion about gender, and I have a trans daughter," she said. "It was a real joy to be able to talk to my coworkers about my child and what that experience has been like. That group of people helped elevate this place because the DEI committee exists in order to create an open, safe environment for discussion. I never felt like I couldn't truly express how I feel about things but there are moments in discussion when things can get uncomfortable. Thanks to the work of this group, it's all about learning, growing, and becoming a better person for society."
And Jennifer knows that when you are given permission to be your true self in your work environment, that makes you a better employee, too. "None of us are the same," she added. "When you think that you're the only one dealing with x, y, and z, it can be very isolating. Knowing that your coworkers are there for you is huge. It really makes you feel part of the team."
From declaring she wanted to work there to now actually being a huge part of the mission, it's safe to say that Mid-America Transplant exceeded Jennifer's expectations. When asked what she loves most about working there, Jennifer gets emotional. "This is not just a job, it's a calling," she said. "It doesn't mean that you don't have days where you're tired or that you don't get frustrated because the instrument  didn't work right. Everybody has days like that. But if someone were to ask me if I'd ever want to go elsewhere, I'd say no. I can't imagine working for anyone else."
If you, like Jennifer, feel a calling toward organ donation, consider joining an organization committed to a lifesaving mission and find a rewarding career with Mid-America Transplant. View our current job openings.