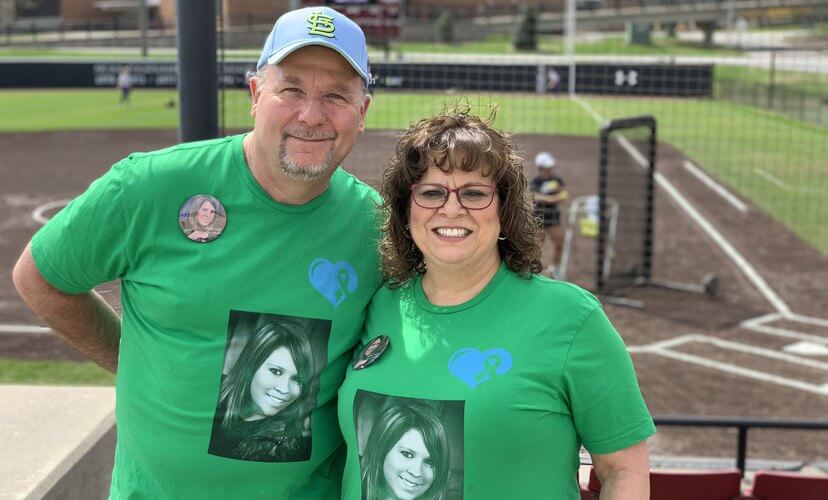 Shortly after Amber Kaufmann saved three lives through organ and tissue donation as a 16-year-old, her high school bowling team hosted an event for a scholarship in her honor. They asked Amber's mom, Teri Slusher, to throw the ceremonial first ball.
"I went out to throw the ceremonial first bowling ball, and they gave me this little bowling ball," Teri said. "I threw it out and it went right into the gutter. She would have thought that was hilarious and given me all kinds of trouble about it. She would have teased me forever."
Amber would have been proud of her mom on Saturday. Teri opened the 2019 Green Up Games with the ceremonial first pitch – over the plate -- at Southern Illinois University's softball game at Charlotte West Stadium in Carbondale. With her husband by her side, patting her back, Teri honored Amber's life and legacy.  "She would be thrilled to be getting all of this attention," Teri said. "She would be smiling from ear to ear, loving every bit of it."
Amber was an honor student at Scott City High School. She played softball and volleyball, bowled, and was a student helper for the girls' basketball team. She also was on the track team, participating in discus and shotput. She enjoyed music and played in band. She talked about joining the military like her sister Erika and brother Todd. In 2008, Amber saved three lives as an organ donor. She gave the gift of sight to two people and helped countless more through tissue donation.
Teri only hoped her mother could have been in the pitcher's circle too. "My mom passed in 2014, and for her to be a part of this would have been really cool. She was an avid sports fan," Teri said.
Before the first pitch, 30 people – representing donor families and transplant recipients – stepped onto the field for a moment of silence in honor of those who have given the Gift of Life and in support of the 114,000 people waiting for a lifesaving organ transplant today.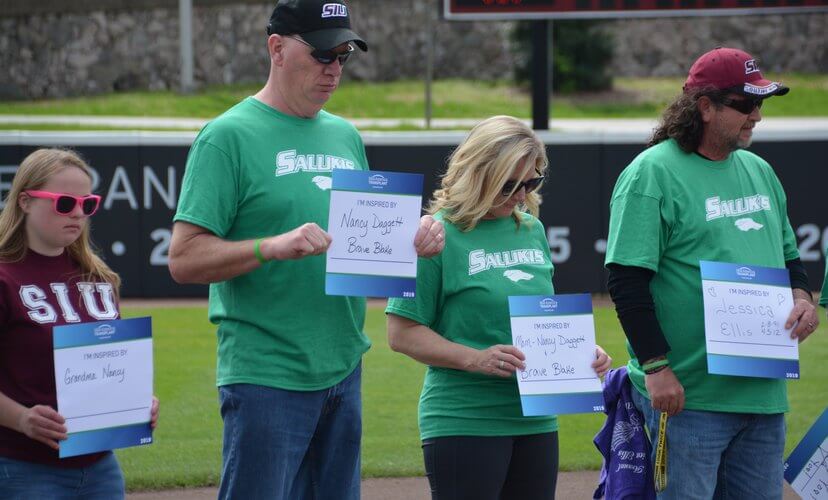 As they stepped off the field, the coaching staff from Southern Illinois individually thanked each of them. It's a personal cause for this team. Associate head coach Jen Sewell has primary sclerosing cholangitis, a chronic liver disease with no cure. Her doctors have said she will most likely need a liver transplant, but she is not currently listed for transplant.
The Salukis wore special Donate Life-themed uniforms on Saturday. When their opponent, Evansville, heard about the game, they joined in with blue-and-green hair ribbons.
"It's overwhelming," Teri said. "To see the faces of people and their appreciation, it means a lot."