April 5, 2022 -- Mid-America Transplant has become the first two-time recipient of the Malcolm Baldrige National Quality Award for performance excellence. On April 3, President and CEO, Diane Brockmeier, and other Mid-America Transplant leaders accepted the award in Washington, DC. They are also speaking on best practices for operational excellence at the Baldrige Quest for Excellence conference this week.
In 2015, Mid-America Transplant was the first organ procurement organization to receive this prestigious award. By receiving the 2021 award – the first year of eligibility for repeat recognition – Mid-America Transplant becomes the organ procurement industry's only two-time Baldrige award recipient.
"We are particularly honored and humbled to start National Donate Life Month by being recognized as one of the nation's role model organizations for quality and performance improvement," says Diane Brockmeier, President and CEO of Mid-America Transplant. "Everything we do goes back to our mission of saving more lives. We realized that while we were trying to improve as an organization, people were dying on the waiting list, so we adopted the Baldrige Excellence Framework in 2003."
Raising the Bar to Facilitate Organ Donation

Since adopting the Baldrige Excellence Framework with the goal of saving more lives, Mid-America has continuously improved processes and outcomes to increase the number of lifesaving organs transplanted by 167 percent and increase the impact of tissue donation by 385 percent.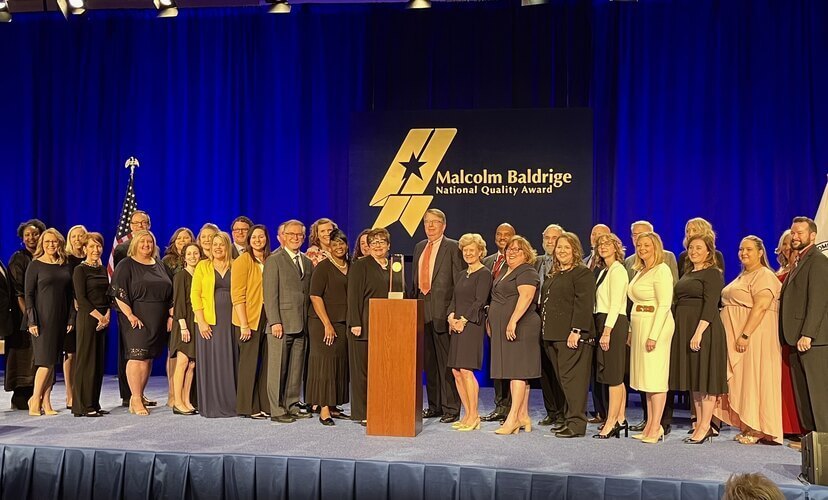 Saving Lives in the Greater St. Louis Metropolitan Area
"Mid-America Transplant is changing lives across 84 counties in three states, and beyond," said Arindam Kar, Partner, Bryan Cave Leighton Paisner and Mid-America Transplant Board Member. "As a St. Louis-headquartered organization, Mid-America's national Baldrige award recognition spotlights our leadership among organ procurement organizations and reflects on our region's reputation for innovation in donation and transplantations."
Will Ross, MD, MPH, Professor of Medicine, Division of Nephrology, Washington University School of Medicine, said: "Mid-America Transplant is meeting the donation challenges and addressing the disproportionate need for transplants in multicultural communities.  Mid-America Transplant is investing in outreach and research to ensure greater availability and better clinical outcomes for those who need organ and tissue transplants. They're building awareness of the need for organ donation and the importance of early diagnosis and preventive care - especially for kidney disease - to help people stay off the waiting list."
Jennifer Davis, Administrative Assistant to the Assistant Superintendent of Learning Webster Groves School District is a Board Member of Mid-America Transplant Foundation. Her commitment to helping to save and heal lives is personal and profound. Jennifer's brother, Reverend Lauren Andrew Hickman was a kidney recipient and an unwavering champion for donation.  When he passed away, he became a tissue donor hero.
Among the many ways the Foundation improves the lives of transplant recipients is through Family House, which offers comfortable mid- to long-term transplant housing for families who must relocate to St. Louis for lifesaving transplant care. In May 2022, the new, expanded Family House will open. The $10.5 million project, located near St. Louis' four major transplant centers, doubles the Family House capacity. With 21 apartments, community and family gather spaces, Family House features amenities to minimize the burdens that patients and families face while awaiting or recovering from a lifesaving transplant.
As the leader of the organization, Brockmeier knows you're only as good as the people you surround yourself with. "The award is great, but the pride is really for my team - the remarkable group of people who serve this mission" she says. "I am humbled to serve with this group of individuals and to be their CEO. At the end of the day, we received this award because of the generosity of donor families and our team who is dedicated to saving lives."
Mid-America Transplant is committed to lead by example to:
Pursue the highest standards of quality, transparency and accountability
Provide education and collaboration for organizations across the U.S. that are responsible for facilitating organ and tissue donations for transplantation
Advocate for policies that empower organizations like Mid-America Transplant to make data-driven decisions to ensure fair and equitable stewardship of the lifesaving gifts of organ and tissues
 
About Mid-America Transplant
Mid-America Transplant enables adults and children to receive lifesaving gifts through organ and tissue donations. For more than 40 years, it has facilitated and coordinated organ, tissue, and eye donation, and now serves 84 counties covering eastern Missouri, southern Illinois and northeast Arkansas that together are home to 4.7 million people. It saves lives by providing expert and compassionate care for organ donors, recipients and families, and transforms the clinical processes required to recover and transplant organs and tissues. Mid-America Transplant was the first such organization in the U.S. to use an in-house operating room for organ recovery and pioneered innovative models of increasing donor registry enrollment to provide organs and tissues to those in need. It is federally designated as one of 57 such organizations in the U.S. and is the first organ procurement organization (OPO) to be recognized as a recipient of the Malcolm Baldrige National Quality Award for Performance Excellence, and the only two-time recipient.
 For more information, visit www.midamericatransplant.org.