On June 14, 2022, Mid-America Transplant took in their first recipient family at the new 34,000-square-foot Family House. The new facility provides double the capacity of the previous Family House, and more capacity means more families can be helped.
"One of the most important goals for us is to keep breaking down the barriers to successful transplantation," said Julie, transplant programs coordinator for Mid-America Transplant. "A lot of the people who come to the Family House are coming from far away. They don't know when they're going to need a place to live or if anything will be available when they do. With the Family House, we give them a safe, affordable place where they can focus on healing and have the support that they need."
Julie says the first year of the new Family House far exceeded their expectations. "We are up to 101 families that we were able to help in the first year alone. In the past, the most we've ever been able to serve was 40 in a year," she said.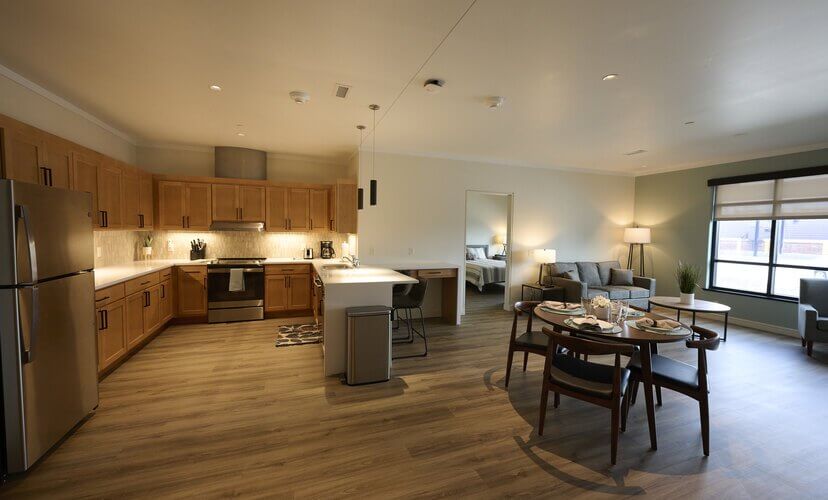 Mid-America Transplant is also the only organ procurement organization in the country with apartment-style accommodations available to patients in treatment and their families. Not only is the increased number of families the Family House is able to support important, but also the expanded types of recipients and the length of stay needed.
"We knew that with twice as many apartments we'd not only be able to help more guests, but also more short-term guests," Julie added. "Our average length of stay in the past was right around three months because we served a lot of lung transplant patients. Because they were here for a long time, the turnover was not as often. Now that we have more apartments, our average length of stay is down closer to 50 or 60 days. We're able to help more families who are only here for maybe a week or 10 days."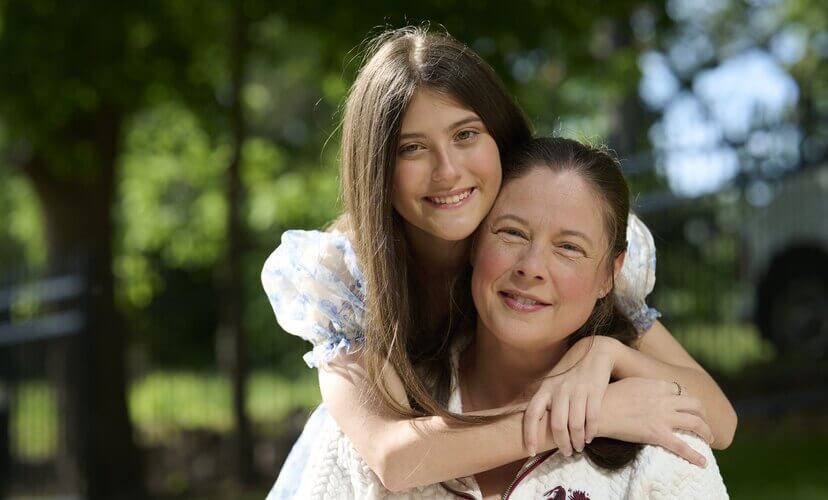 Building a real community for Family House guests      
Opening the doors to a new Family House was a way for Mid-America Transplant to build an even bigger community of hope and healing. Aside from being able to help more families, Julie says the emphasis on community building is a real benefit for the patients and their families.  "We've had an ice cream social and a barbecue, we light the house green when someone receives their transplant, and we encourage patients and caregivers to gather around our firepit to talk with one another. We have a Super Bowl party on the big screen in the community room every year where we have all football-themed snacks, pizza and decorations."
Julie says the community building aspect gives new meaning to the term 'Family House.' "It's so important for every patient, caregiver or guest to know that they're not alone," she said. "When they come here, they've left their lives behind and are often a long way from friends and family. They don't know anyone. The people they meet here become their substitute families. We just want to make sure we meet the needs of everyone."
A highlight for Julie is getting to witness the lasting friendships that get formed from guests who have stayed there. "Sometimes we'll have families that come back and celebrate each other's successes. We've had patients who are graduating from lung rehabilitation and other patients they've met will come back to celebrate with them, which is so special," Julie said.
Sharing the mission beyond the Family House
Julie knows there would be no reason to have a Family House without the generosity of donor heroes and their families. That's why it's important for her to share the impact of the Family House with everyone at Mid-America Transplant.
"With the families' permission, I share stories with the entire staff because it's important for them to see that side of donation," she said. "I want them to celebrate the successes and see the results of the gifts these donor heroes have given and how it has benefited the recipient families."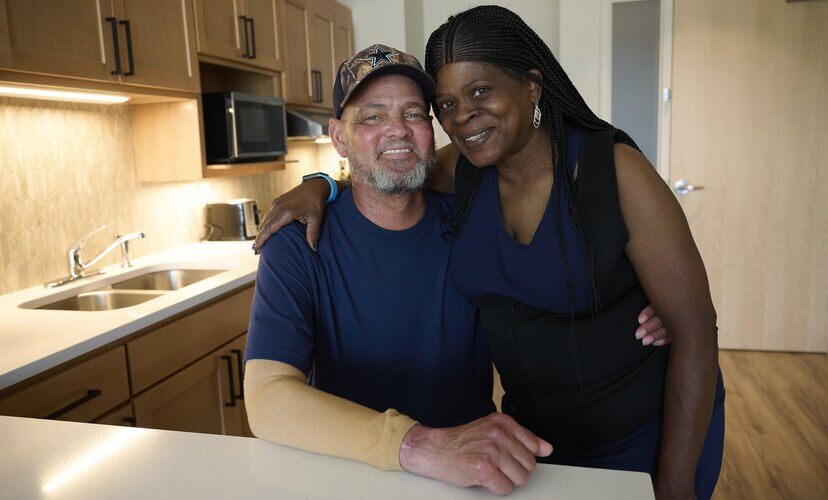 Testimonials from families who stayed in the new Family House during its first year
"I don't think you can ever fully appreciate what your call meant to me the day you called to say there was room at 'The House.' During the most stressful time of my entire life, I always had a cozy, clean space to come back to where I could have some of 'my stuff' around me." – Caregiver of a lung patient
"We could not even imagine this journey we have been on anywhere but at The Family House. It truly has been a 'family' here for us. Getting to really know others going through this process at the same time is so awesome." – Lung patient
"Thank you for providing us a home when we were displaced. You have an amazing facility." – Family of a heart patient
"We're so grateful to have had such nice accommodations so close to the hospital; it made such a difference in my recovery." – Lung patient