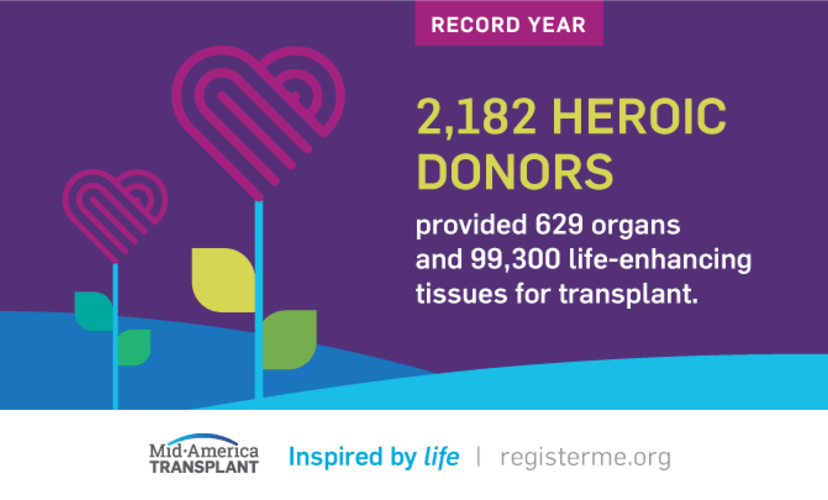 (St. Louis, MO) A historic number of tissue donations in Mid-America Transplant's service area led to hundreds of thousands of life-enhancing and lifesaving gifts in 2018. Mid-America Transplant facilitated the recovery of the gifts of cornea, skin, bone, vein, and heart valves from 1,986 generous donors, the most in the organization's 45-year history. 
"It is remarkable to think that upwards of 99,300 people could be directly impacted by the gifts given by generous donors and their families in 2018," said Diane Brockmeier, President and Chief Executive Officer of Mid-America Transplant. "Many people are familiar with organ transplants, yet don't realize the incredible potential impact of tissue donation. One of the remarkable things about tissue donation is that, over time, one tissue donor may improve the quality of life for more than 50 people.  That's an inspiring legacy."
In addition, the organization experienced these exceptional results:
629 organs transplanted to save lives (second most in organizational history), including the gifts of heart, lungs, liver, pancreas and kidneys. 
196 generous organ donors (second most in organizational history)
1,108 corneas placed for vision-saving transplants in the nation and beyond
An ongoing commitment to performance excellence has led Mid-America Transplant to experience an overall growth in the number of organ donors and organs transplanted since 2003. Inspired by saving more lives, Mid-America Transplant continues to apply innovative approaches for increasing organs and tissues for transplant.
Mid-America Transplant's work in saving lives is built on strong relationships and collaboration with about 120 acute care hospitals and four transplant centers: Barnes-Jewish Hospital, St. Louis Children's Hospital, SSM Health Cardinal Glennon Children's Medical Center, and SSM Health Saint Louis University Hospital. In addition, Mid-America Transplant collaborates with medical examiners, coroners, and other medical professionals to make lifesaving gifts available for transplant. "We are fortunate to have exceptional relationships with our medical partners and transplant centers," said Dr. Gary Marklin, Chief Medical Officer at Mid-America Transplant. "Their commitment to our mission is vital to making sure more lives are saved each year."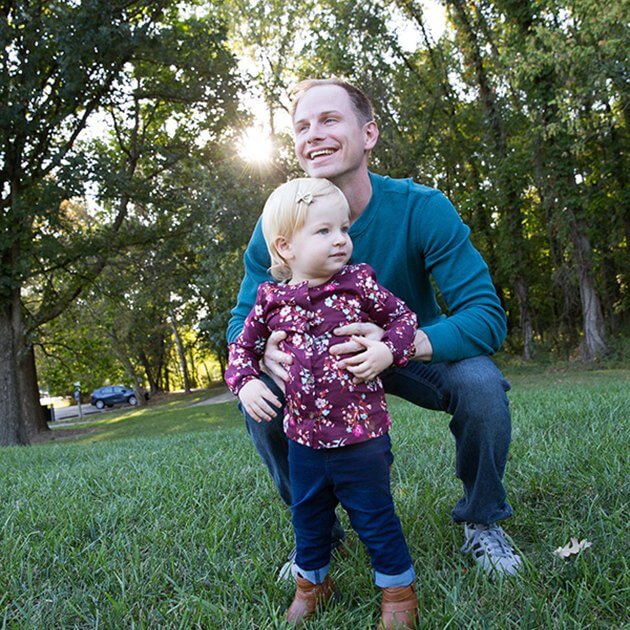 The generosity of the region contributed to a record-breaking year nationwide, in which the number of organ transplants exceeded 750,000 since 1988. The United Network for Organ Sharing (UNOS) reported 36,527 organ transplants were performed in 2018 from both deceased and living donors. UNOS, the non-profit organization that manages the nation's organ transplant system under contract with the federal government, also reported 5% increase in organs transplanted from 2017. 
Mid-America Transplant proudly supported the community in 2018. The organization increased funding of grief centers throughout the region; continued its commitment to support research aimed at improving the lifesaving impact of organ and tissue donation and transplantation through the Clinical Innovation Fund;  launched the Green Up Games; and hosted its inaugural Research and Innovation Symposium. In addition, Mid-America Transplant supported Missouri legislation in 2018 to increase education opportunities about donation and collaborated with state leaders to incorporate the option to join the Missouri Organ and Tissue Donor Registry when purchasing a hunting or fishing license from the Missouri Department of Conservation.
We are inspired by the opportunity to save more lives in the years to come. More than 1,400 people in the region and 115,000 nationwide continue to wait for a lifesaving transplant. Visit www.midamericatransplant.org for more information about organ and tissue donation. You may also register your decision to be an organ, eye and tissue donor at RegisterMe.org or in the Medical ID tab of your iPhone Health App.
About Mid-America Transplant
For 45 years, Mid-America Transplant has facilitated and coordinated organ and tissue donation, and now serves 84 counties covering eastern Missouri, southern Illinois and northeast Arkansas that together are home to 4.7 million people. It saves lives by providing expert and compassionate care for organ donors, donor families, and recipients, and transforms the clinical processes required to recover and transplant organs and tissues. Mid-America Transplant is federally designated as one of 58 such organizations in the U.S., and is the first organ and tissue procurement organization to be recognized as a recipient of the Malcolm Baldrige National Quality Award for Performance Excellence. For more information, visit www.midamericatransplant.org.