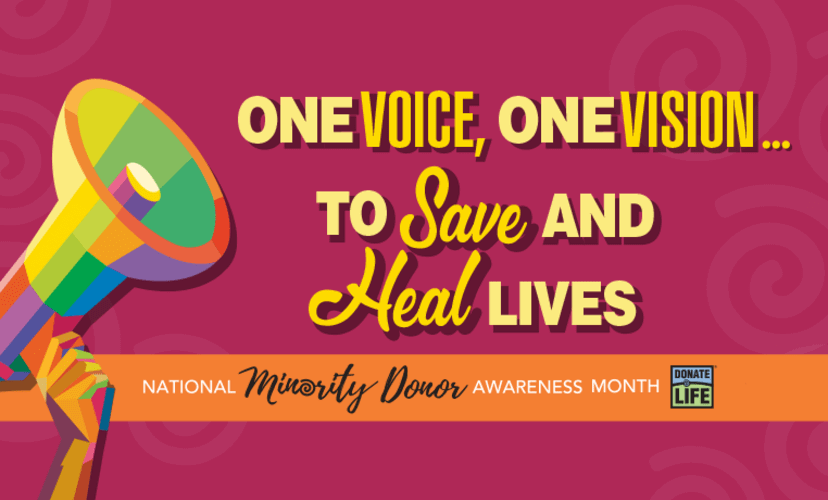 The inaugural month-long observation to raise awareness for the multicultural representation on the national transplant waiting list .
National Minority Donor Awareness Month is a collaborative effort by the National Organ, Eye and Tissue Donation Multicultural Action Group to save and improve the quality of life of diverse communities by creating a positive culture for organ, eye, and tissue donation. National Minority Donor Awareness Month, which will be celebrated for the first time as a month-long observance this August, stems from National Minority Donor Awareness Week, founded in 1996 by the National Minority Organ Tissue Transplant Education Program (MOTTEP), to bring heightened awareness to donation and transplantation in minority communities.
Our voices are united to address the number one problem in transplantation: the gap between the demand for organ transplants and supply of donated organs. The waiting list currently stands at more than 100,000 with more than 60% representing racial and ethnic minorities. Even though a record number of nearly 40,000 people, including more than 18,000 racial and ethnic minorities, received the gift of life in 2019, the gap remains staggeringly high. On average, 20 people die every day waiting for a transplant.1 
In the St. Louis region, more than 1,000 people are waiting for a lifesaving transplant, with more than 38% representing racial and ethnic minorities. Locally, 761 lifesaving organs were made available for transplant in 2019 from 271 heroic organ donors.
The need for donation and transplant is more pronounced in multicultural communities where disproportionately higher rates of diabetes, high blood pressure and heart disease contribute to organ failure, especially kidney failure. African Americans are three times more likely than White Americans to have kidney failure. Hispanics are 1.5 times more likely than non-Hispanics to have kidney failure.2
On average, African American/Black transplant candidates wait longer than White transplant candidates for kidney, heart and lung transplants.3 These healthcare disparities are part of the need for National Minority Donor Awareness Month education and outreach to help heal and save lives in our communities. 
During National Minority Donor Awareness Month, organ and tissue donation organizations like Mid-America Transplant will highlight the need for more organ, eye and tissue donors within multicultural communities, provide donation education, encourage donor registration, and promote healthy living and disease prevention to decrease the need for transplantation. National Minority Donor Awareness Month is another important effort to promote the positive messages that are necessary for minority communities to make the decision for organ, eye and tissue donation.
National Multicultural Action Group partners consist of the Association for Multicultural Affairs in Transplantation (AMAT), Association of Organ Procurement Organizations (AOPO), Donate Life America (DLA), National Minority Organ Tissue Transplant Education Program (MOTTEP) and National Kidney Foundation (NKF). A toolkit to promote National Minority Donor Awareness Month is available for download at DonateLife.net.
About Mid-America Transplant
For 45 years, Mid-America Transplant has facilitated and coordinated organ and tissue donation, and now serves 84 counties covering eastern Missouri, southern Illinois and northeast Arkansas that together are home to 4.7 million people. It saves lives by providing expert and compassionate care for organ donors, donor families, and recipients, and transforms the clinical processes required to recover and transplant organs and tissues. Mid-America Transplant is federally designated as one of 58 such organizations in the U.S. and is the first organ and tissue procurement organization to be recognized as a recipient of the Malcolm Baldrige National Quality Award for Performance Excellence. For more information, visit www.midamericatransplant.org. 
(Notes: 1 Data from Organ Procurement and Transplantation Network (OPTN) data as of July 2020, https://optn.transplant.hrsa.gov/; 2 National Kidney Foundation, as July 21, 2020, kidney.org ; 3 SRTR Risk Adjustment Model Documentation: Waiting List Models, as of July 21, 2020, https://www.srtr.org/reports-tools/waiting-list/)