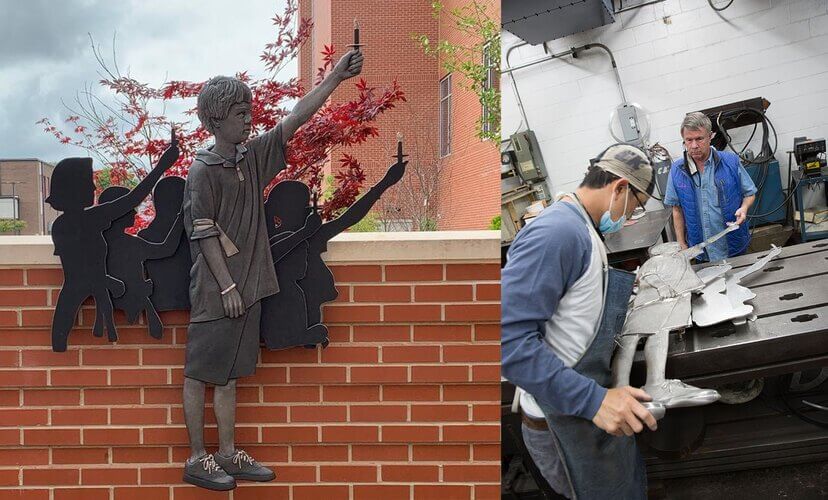 ST. LOUIS (April 28, 2021) – Today, St. Bernards Medical Center dedicated a new sculpture in memory of those who have donated lifesaving organs and tissue to patients in need. The sculpture, which features a boy raising a candle in remembrance, is a gift from Mid-America Transplant, the organ procurement organization that oversees donations in northeast Arkansas.
"Families that choose donation for their loved ones are making a heroic decision that truly saves someone's life, and it often brings them a sense of peace knowing that their loved one's legacy lives on," said Diane Brockmeier, president and CEO at Mid-America Transplant. "This sculpture gives families and all those at St. Bernards an opportunity to honor their memory."
The bas-relief sculpture—a sculpture technique where figures and other design elements slightly protrude from the flat background—was created by Don Wiegand, a world-renowned sculptor based in St. Louis. Wiegand's artwork is on display in such notable locations as the Vatican, the White House, the J.F. Kennedy Library in Boston and the Museo de America in Spain, as well as in more than 500 private collections. His subjects include Winston Churchill, Pope Francis, George H.W. and Barbara Bush and Bob Hope. He also created the donor memorial located outside Mid-America Transplant's headquarters in St. Louis.
A total of 84 individuals from the northeast Arkansas area became organ or tissue donors in 2020. Approximately half of those came from St. Bernards Medical Center.
"The greatest gift that we, as healthcare providers, can give is life and healing," said Michael Givens, St. Bernards Medical Center Administrator. "Sometimes that gift relies upon the sacrificial kindness of organ and tissue donors, and this memorial reminds us all of their selfless donations. Lastly, for the families who have helped us with this process, we pray it honors their loved ones, serving as an open space where they can heal, too."
Visitors can see the memorial in the Prayer Garden at St. Bernards Medical Center in Jonesboro, adjacent to the Chapel and Emergency Department.
April marks Donate Life month, a reminder to choose organ donation to provide lifesaving gifts to others. Register to be a donor at SayYesGiveLife.org
About Mid-America Transplant
Mid-America Transplant enables adults and children to receive lifesaving gifts through organ and tissue donations. For more than 40 years, it has facilitated and coordinated organ and tissue donation, and now serves 84 counties covering eastern Missouri, southern Illinois and northeast Arkansas that together are home to 4.7 million people. It saves lives by providing expert and compassionate care for organ donors, recipients and families, and transforms the clinical processes required to recover and transplant organs and tissues. Mid-America Transplant was the first such organization in the U.S. to use an in-house operating room for organ recovery and pioneered innovative models of increasing donor registry enrollment in an effort to provide organs and tissues to those in need. It is federally designated as one of 58 such organizations in the U.S., and is the first organ procurement organization to be recognized as a recipient of the Malcolm Baldrige National Quality Award for Performance Excellence. For more information, visit www.midamericatransplant.org.
About St. Bernards Healthcare
St. Bernards Healthcare, a non-profit healthcare system based in Northeast Arkansas, serves as the corporate parent of a number of healthcare entities, including the largest hospital in the region, St. Bernards Medical Center, a 440-bed acute care hospital that serves as a regional referral center for 23 counties in Northeast Arkansas and Southeast Missouri. It is the only Level III Trauma Center in the region, houses the only Neonatal Intensive Care Unit in the eastern part of Arkansas and has served as the trusted provider of comprehensive, compassionate healthcare services for more than 120 years. For more information, please visit stbernards.info or call the St. Bernards Healthline at 870.207.7300.