Mac M. did not have a connection to organ and tissue donation prior to working for Mid-America Transplant, he was simply inspired by the mission. 
"I was working in an operating room (OR) several years ago and these technicians came in to complete an organ and tissue donation," he says. "I was immediately interested. This idea that life goes on after transplant intrigued me. This is the ultimate gift that has been given."
Mac researched the role and discovered the prerequisite was to become a surgical technologist. He then attended classes to become a surgical technologist and about five years later, he sought out Mid-America Transplant. "I gained all the knowledge I thought I needed to go ahead and apply for Mid-America," he added.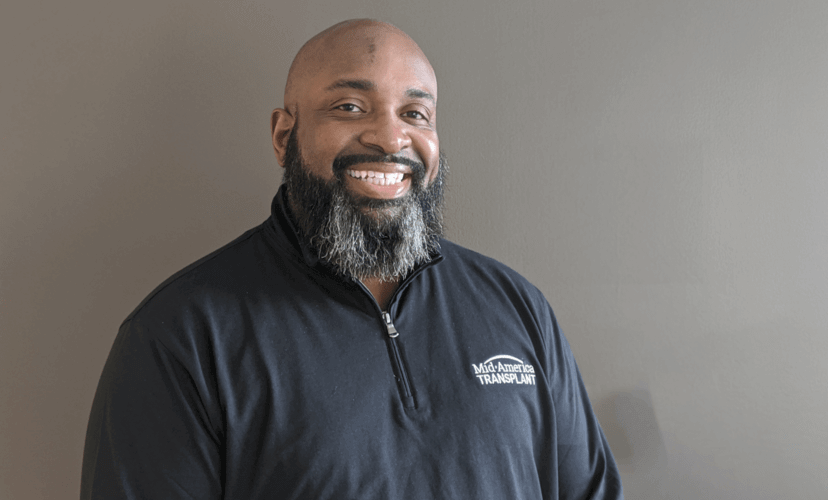 Mac has since excelled in his role, moving from a TOPC (surgical technician or tissue ocular procurement coordinator) to a preceptor. In that role, he works with a clinical educator to form a plan for new hires and trainees to make sure they are well trained on techniques, processes, procedures, and to make sure Mid-America Transplant stewards the gifts from donor heroes in the best way possible. Mac says no two days are ever the same. "Even though the donation processes are the same, each case is almost always different. I've participated in hundreds of tissue donations  and there's always variations, it never ceases to amaze me," he says.
Because of the delicate timing with tissue donation, Mac says the success of his team can be boiled down to one critical skill: communication. "We coordinate and collaborate with various teams during the donation process," he explains. "It's also important to utilize everyone's skills to maximize the donation for the family."
When asked what his favorite part is about his job, Mac doesn't hesitate. "Learning," he says. "I'm constantly learning and I love it. I seek out opportunities to learn every day to make sure I'm not becoming complacent. This is someone's loved one and they have trusted us with this gift."
Continuous improvement. Innovation. Learning. They are all values that make up the culture of Mid-America Transplant, and they are what makes it a perfect fit for Mac. 
"I'm not afraid of change," he says. "Welcoming change and constant growth means it's a culture that really embraces innovation. There are always new studies and new advancements within the organ and tissue field. Mid-America is very committed to research."
In fact, the Mid-America Transplant Foundation recently awarded $1.5 million to clinical research, grief support, and community health services. The organization partners with academic institutions to support clinical research that can improve the outcomes for organ transplant. In dedication to the community it serves, Mid-America Transplant has allocated more than $5 million to clinical research since 2016.
Not only does Mid-America Transplant champion research and innovation but they have become one of the nation's role models for quality and performance improvement. In 2022, Mid-America Transplant became the organ procurement industry's only two-time recipient of the Malcolm Baldrige National Quality Award for performance excellence.
"The commitment from everyone who works at Mid-America is amazing. I've worked many places and the medical field is very near and dear to me," says Mac. "I haven't met anyone who has come to work at Mid-America and not been committed to the mission of saving lives through organ and tissue donation. For the entire facility to be dedicated to that is incredible."
"It's more of a family than coworkers. You will never meet a greater group of people," he added.
If you're like Mac and you desire to work in a career where everyone is passionate about what they do, consider joining an organization committed to a lifesaving mission and find a rewarding career with Mid-America Transplant. View our current job openings.