Gina Biancardi describes her son, Nick, as adventurous with a heart of gold. "Nick loved his family so much," she said. "He would say that we were his best friends and I know that sounds odd for a young man to say that but the three of us were very close. He was a good kid." 
Biancardi describes how, later on in life, Nick struggled with addiction. "He got into some struggles with Xanax because it was the first thing that he took, then it was other pills, and he was in and out of recovery programs." And although Nick struggled himself, his giving nature meant he was always trying to help friends that had the same problems. "He helped everybody that he could, he just couldn't help himself," Biancardi added.  
After Biancardi found Nick in his room on September 17, he was transferred to the ICU for three days. On the third day, when they determined there was no brain activity, she said, "Well, can he still be an organ donor?" Information was passed on to an organ procurement organization who then checked his information in the organ donor registry and determined that Nick had already registered as a donor. 
Elsewhere, Peggy Stover had just been diagnosed with end stage renal failure, and was in desperate need of a kidney transplant. "I was lucky enough to be able to do peritoneal dialysis at home," she said. "When I was first registered for transplant I didn't realize that I needed a liver as well. It was wonderful when we got the call because I just had figured I'd be on the list forever."
Nick was a perfect match for Stover.
The surgery, which took 14½ hours, went fine. "When I woke up, the first thing that my daughter said to me was, 'Your color is so much better.' I didn't realize that I looked that sick," Stover added.
It was a relief for Biancardi to know he was able to donate both kidneys, his liver and some heart valves. "I was just glad that he was able to help other people because then I felt like our loss wasn't all for nothing," she said. "He had a big heart who loved everybody and would give the shirt off his back to help others. It made sense that this was kind of his journey."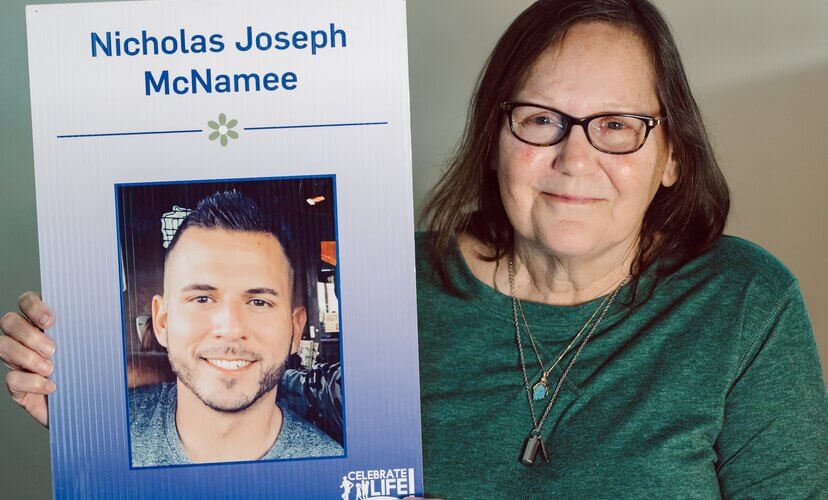 As part of her own healing, Biancardi wanted to meet the people fortunate to receive her son's organs so she wrote letters to both of them. And to her surprise, she got a response from Stover. "I remember it was raining one day in January, I'm kind of having a miserable day and I got the mail, and I just stood there frozen. I opened the letter and read it and just cried my eyes out. I was so happy to hear from one of Nick's recipients," Biancardi said.
"I'm so grateful that Gina wrote to me," Stover said. "I was struggling with what I was going to say and since I got my letter from her first, it was easier to put a face and a story to the person. It made it easier for me to reply and respond."
As the two women bonded over the shared experience, they discovered so many more things in common, which felt serendipitous. "For her to have the same common interests as my son is just crazy," Biancardi added. "It's kind of like it was meant to be, I couldn't have hand picked a better recipient for him than her."
Biancardi says it helps to heal her heart knowing Nick is out there making a difference in someone's life. "I can't even tell people how much it means to us to know that he's helping other people even though he's not physically with us anymore. He lives on in them and helps them have a better quality of life." 
As for Stover, she's committed to keeping Nick's memory alive not only to honor him but to also honor his mother. "Gina gave me a lovely necklace and some of his ashes, so I take him with me and we spread his ashes in different places," Stover said. "There was one time that we went to Cumberland Gap in Kentucky, it's a place they refer to as Kentucky's Niagara Falls. I spread some of his ashes there. And as I did that, the ashes turned into a rainbow. It was just amazing."
"When we first met, all I could say to her was, 'Thank you. Thank you for sharing Nick with me and my whole family.' I am just ever so grateful," Stover added. 
Biancardi feels comforted that the tragedy of losing her beloved son could be turned into a blessing and that his giving nature lives on. "Even though he had his own struggles that he couldn't work through, he helped everybody. He still does. He's still helping."
Become part of a cause and a community that's greater than yourself. By registering as an organ or tissue donor, you can bring hope to patients and families who are holding out for a miracle. Sign up for the donor registry, and increase the chance that patients waiting will get the transplants they need to survive and get the chance to witness the benefits of organ donation first-hand.