Every day, we at Mid-America Transplant are humbled by the countless stories of generous donor families, the perseverance of transplant patients, and the incredibly talented medical professionals with whom we work every day to save lives. 
2019 was a truly remarkable year for organ and tissue transplant in our region. Through our shared commitment to donation, Mid-America Transplant was able to provide 761 organs for lifesaving transplants and helped thousands of people through tissue donations. With the support of our transplant centers, local hospitals, medical examiners and coroners, 2019 set new donation milestones for Mid-America Transplant, as we continue to improve our processes to give more patients a better quality of life.
Without the support of our medical partners, we truly could not do the work we do. We are inspired by their dedication to donation and to saving lives. Due to the COVID-19 pandemic, Mid-America Transplant's in-person hospital recognition events were cancelled. However, we wanted to take a moment to recognize our partners for their outstanding work in organ and tissue donation in 2019:
Alton Memorial Hospital 
Barnes-Jewish Hospital
Christian Hospital 
Cox Medical Center Branson
Cox Medical Center South 
Madison County Coroner's Office
Mercy Hospital Springfield
Mercy Hospital St. Louis
Mercy Hospital Washington
Missouri Baptist Medical Center
Office of the St. Louis County Medical Examiner
Office of the Regional Medical Examiner
OSF Saint Anthony's Health Center    
Phelps Health
Saint Francis Medical
SIH Herrin Hospital
SSM Health DePaul Hospital-St. Louis
SSM Health Saint Louis University Hospital
SSM Health St. Joseph Hospital-Lake St. Louis
In honor of their lifesaving work, each organization listed above will be presented with the Gift of Life donor medal. Mid-America Transplant offers these medals to the families of donors in honor of their own generosity, and in remembrance of their loved one. The bronze medal depicts a special moment from our memorial ceremonies, where families and friends gather to raise a candle in honor of organ and tissue donors.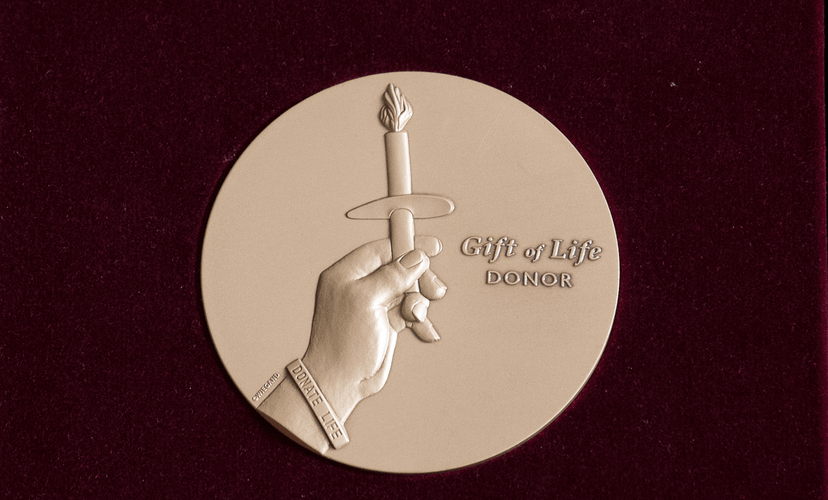 We are sharing this medal with the hospitals on behalf of donor families, whose generosity, along with the passion and dedication of the hospital staffs, make these lifesaving gifts possible.  
Thank you on behalf of the organ and tissue donor families. Thank you on behalf of the recipients, who are now able to live happy, healthy lives. Thank you on behalf of the patients on the waiting list.