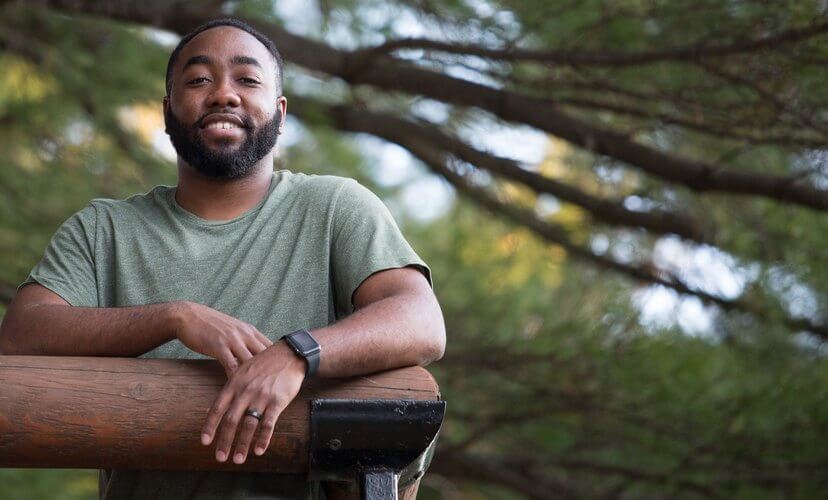 For patients and families awaiting transplant, every yes is critical. In 2019, Mid-America Transplant did more than ever before to increase the number of organs and tissues available for transplant. With an organization-wide commitment to excellence, we implemented process improvements to find new opportunities to increase donation throughout the year.
"As stewards of these gifts, we have a responsibility to do more every day, and to ensure that all suitable organs and tissues are available for transplant," said Diane Brockmeier, President and CEO at Mid-America Transplant. "Patients, recipients, and families count on us to be the best we can be in every phase of the donation process, from speaking with potential donor families to procurement and providing aftercare support following the donation."
This lifesaving work — and this remarkable year — are made possible by the incredible generosity of donors and their families. These heroes said yes to help others through gifts of organ and tissue, leaving legacies of life, love, and healing.
More Lives Saved than Ever Before
Last year, 2,504 generous donors in our service area made 761 organs – an increase of 21% over 2018 --and more than 165,000 tissues available for lifesaving transplants. Donors also shared gifts of cornea, resulting in 1,082 vision-saving transplants for patients near and far. These gifts represent new records for our organization, but more importantly, they leave a lasting impact on recipients and a heroic legacy for the families of donors.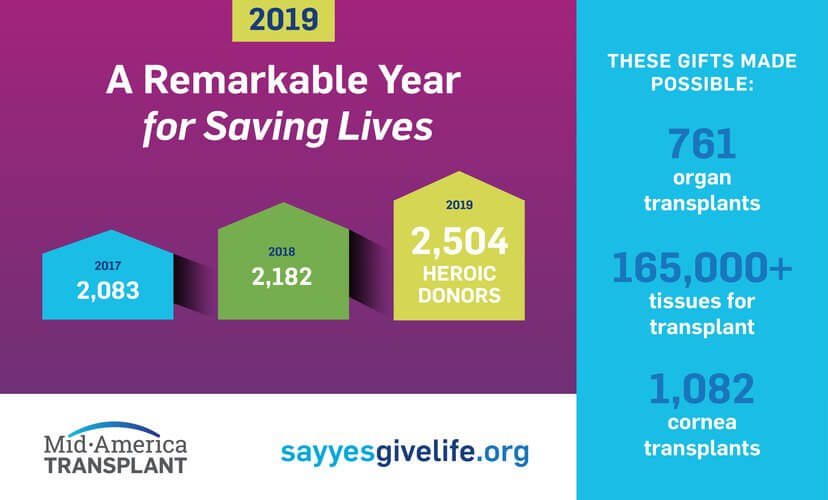 Supporting Families in a Time of Loss
As stewards of lifesaving donations, and as a resource for hope and healing, we are called to support families when they need us most. Unfortunately, counseling, support groups, and other resources are not always readily available in our communities. In 2019, the Mid-America Transplant Foundation invested in five grief support centers across our service area to ensure that every family has somewhere to turn for support.
Supporting Courageous Patients & Recipients
Life on the waiting list brings its share of physical and emotional challenges, but it can also create financial challenges. In 2019, we welcomed 46 patients from 14 states to the Family House, our home away from home for families who need to be near a transplant center as they wait for a donation to become available. Our Foundation also awarded grants to help 115 patients through the recovery process.
Leading the Way to More Lives Saved
Year after year, our community inspires us to find new and innovative ways to address the national shortage in organs and tissues for transplant. In 2019, The Mid-America Transplant Foundation awarded nearly $1.2 million in research grants for studies seeking to improve the lifesaving impact of organ and tissue donation and transplantation.
Committed to Our Lifesaving Mission, Today and Tomorrow
Every year, we continue to innovate and improve, finding opportunities to do even more — for the patients awaiting transplant, for the families who selflessly share the gift of life, and for the communities we are so proud to serve.
We are inspired by the opportunity to save more lives in 2020. More than 1,200 people in the region and 113,000 nationwide continue to wait for a lifesaving transplant. Nearly 22 people die each day while waiting for a lifesaving organ transplant, and one person who donates their organs, tissue and corneas can save the lives of 75 people. 
"Our staff is determined to save the lives of the 1,200 people waiting for a transplant in our region, and they work every day to achieve our vision that organs and tissues are always available for those in need," Brockmeier said. "Through the generosity of donors and their families, with strong partnerships with hospitals in our region, we remain committed to providing hope for all waiting for a lifesaving transplant." 
Register your decision to be an organ, eye, and tissue donor in less than two minutes at SayYesGiveLife.org.