When Kelley Pendleton's husband, Kevin, died suddenly of a brain aneurysm on November 13, 2018, she was faced with the question of "do we want him to be an organ donor?" Prior to his death, Kevin had not registered to become an organ, eye or tissue donor. "In that situation, I just felt an overwhelming 'Yes.' All of us as a family discussed it and we were all in agreement that, yes, he would want to do that. He would definitely want to donate and give life to others," she says. 
Pendleton shared her story in celebration of National Donate Life Month. NDLM is observed every year in April in order to help raise awareness about donation, encourage Americans to register as organ, eye, and tissue donors, and to honor those that have saved lives through the gift of donation. Through a month of planned activities, it also helps to close the gap between people who believe in the power of organ donation and those, like Pendleton's husband, who don't get around to registering. The 2019 National Survey of Organ Donation Attitudes and Practices revealed that 95 percent of Americans support organ donation but only 60 percent are actually registered as organ donors.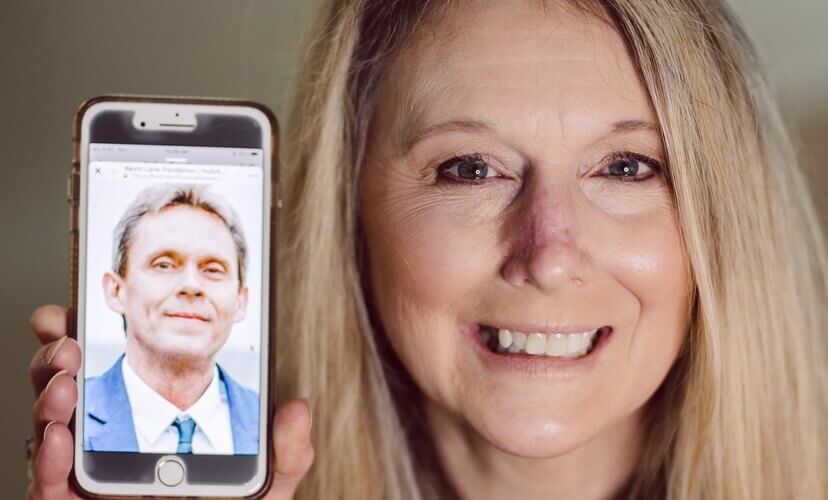 Each year, hundreds of opportunities for transplants are missed because families aren't sure what to do, in part because their loved one hadn't made their wishes clear. Families are always consulted about organ donation first and if the family objects to it and their loved one isn't registered, it is not possible to proceed with organ donation. That's why it's so important to tell your family you're a registered organ, eye and tissue donor. 
Thankfully, Pendleton's family said "yes" without knowing Kevin's wishes. "There really wasn't a moment of hesitation," she says. "And even though he had not been registered, it has been a blessing for our family. Kevin was able to save four lives by donating four organs: his lung, liver, and both kidneys." 
It didn't take long for Pendleton to realize she made the decision her husband would have wanted. "A week after my husband passed away, I found actually a Donate Life bracelet in his work van. At the time of his passing, we received a box from Mid-America Transplant with a blanket in it and it just gave us such comfort. It was the same bracelet I found in his van that day," she adds. 
It was almost as if Kevin was communicating directly to her and assuring her she'd done right by him. "I thought, 'This is the sign I needed. Yes, he would have wanted to be an organ donor.' It was confirmation that I did the right thing. It has given us so much peace and joy to know that a part of him is living in others."
When you become a registered organ donor, you're not potentially saving just one life. By donating you can save up to eight lives, restore sight to two blind people, and heal the lives of more than 75 others with your tissues. People who are on an organ waiting list typically have a disease that significantly impacts their quality of life and who may be out of other options. It can also help the donor family work through their loss knowing their loved one helped to save the lives of others.  
"I heard from two of the recipients, the first one was from the woman who received his liver and she said that it has changed her family's lives drastically. She has two sons and she actually received the organ on her birthday. It was a literal gift to her and has made a dramatic change for their lives and given them renewed hope."
"It also gives us so much comfort to know that he is still here. And for our family, it really helped us to heal, too." 
Celebrate National Donate Life Month and help save lives
NDLM features an entire month of activities you can participate in to raise awareness around the mission. There are many ways you can help celebrate NDLM and show support for donor heroes, their families and those awaiting a lifesaving gift. 
Pendleton knows her husband's legacy lives on and that gives her and her family a sense of peace. "Kevin was a very giving person. I was kind of disappointed that his heart was unable to be given to somebody else because he had such a big tender heart. He loved his family. He loved his children. He loved to serve others. He would help anybody at any chance he could in any way he could." 
Become part of a cause and a community that's greater than yourself. By registering as an organ or tissue donor, you can bring hope to patients and families who are holding out for a miracle. Sign up for the donor registry, and increase the chance that patients waiting will get the transplants they need to survive and get the chance to witness the benefits of organ donation first-hand.