Transportation is an essential link in the time-sensitive and intricate donation process. It requires precise logistical coordination with medical teams and multiple modes of transportation across hundreds of miles while following all clinical standards and national policies. Investing in enhanced transportation and logistics is part of Mid-America Transplant's commitment to saving lives through excellence in organ and tissue donation.
To increase the safety, efficiency, and effectiveness of transferring lifesaving gifts from generous organ donors to awaiting transplant recipients, Mid-America Transplant deployed a new fleet of six specially staffed and equipped SUVs to transport organ recovery teams, organs, and tissues.
"Every day, Mid-America Transplant stewards the lifesaving gift of organs from donor heroes to grateful recipients," said Kevin Lee, President and CEO of Mid-America Transplant. "When people see the transport vehicle, it's a visual reminder that the lifesaving gift in progress will save and improve the lives of many. It's a moment to pause with thoughts of hope for the recipients, and gratitude to the donor and their family."
The fleet has been deployed in partnership with Nationwide Organ Recovery Transport Alliance (NORA). NORA specializes in transport logistics for the organ and tissue donation community. Their drivers, many of whom have experience as emergency responders, receive specialized training as it relates to the human and technical aspects of organ recovery. NORA will also handle flight logistics for both commercial and charter flights when necessary.
"NORA is honored to partner with Mid-America Transplant to support their mission of saving lives through organ and tissue donation," said Scott Demczyszyn, Senior Vice President and COO of NORA. "Our staff understands the critical and time-sensitive mission they are supporting each time they transport an organ or transplant team."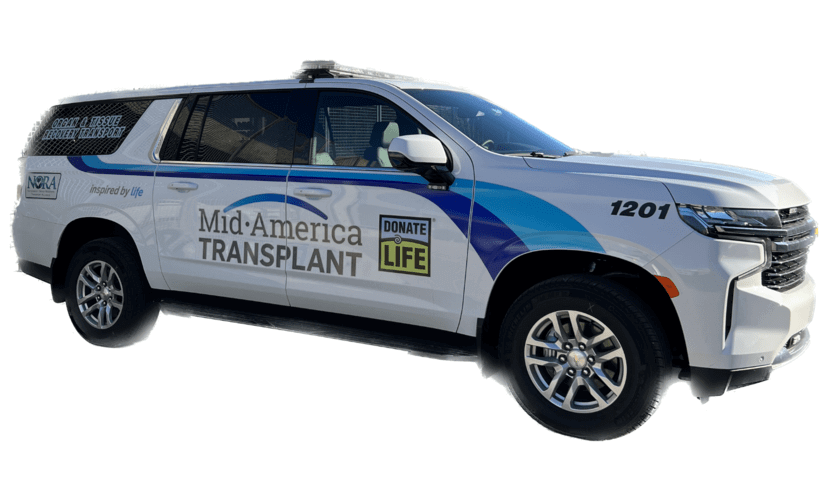 Organ Recovery and Transportation Matters in the Race Against Time
 Did you see a Mid-America Transplant vehicle on the road? If so, you were likely witnessing a lifesaving miracle in progress.  
The vehicles are mobile reminders that everyone can save a life. It takes only a few minutes to join the national registry for organ and tissue donation, and to then let loved ones know how to make a final wish become a lasting legacy. Visit SayYesGiveLife.org to register your intent to become an organ and tissue donor. 
Read stories about how organ and tissue donation is saving people's lives every day.