Work that aligns your skills and values can be rare today. For a person with a strong calling to help others, Keith's job with Mid-America Transplant is the perfect match. For Keith, matching is an especially important part of his life story.
It's Keith's nature to look for ways to help someone in a tough situation, even perfect strangers. For example, he's donated blood and platelets regularly for years, feeling that a few hours of his time is a simple way to make a significant impact for many patients in need.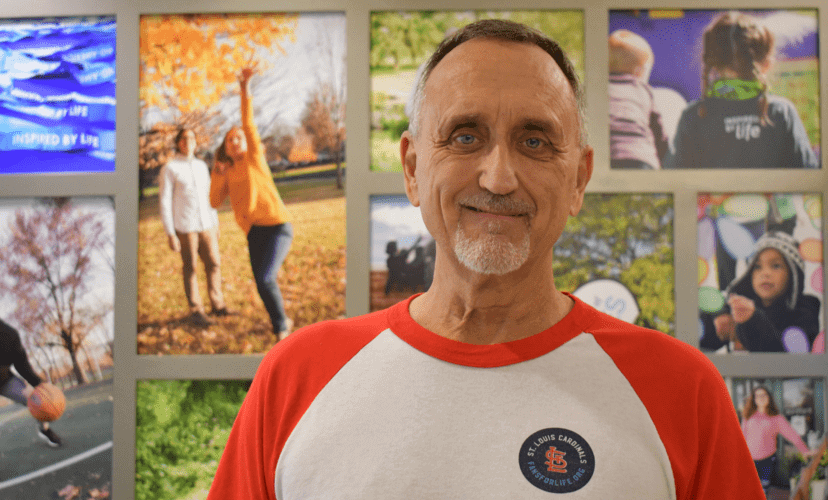 In early 2020, the pandemic heightened Keith's drive to make a difference during an uncertain time. He asked himself, "What more, what else, can I do to help?"
Having heard about the desperate need for kidneys, Keith began to research living kidney donation as a way to help potentially save the life of a perfect stranger at the end stages of kidney failure.
With the support of his family and employer, he took the life-changing step of contacting the registry and beginning the extensive period of testing and evaluation, not knowing when – or even if – donation would happen.
In May of 2020, Keith saw the news story of a teacher in the St. Louis area who was retiring from her beloved profession at a young age because of her advancing kidney failure. The story highlighted the "pandemic parade" of grateful students, colleagues and friends driving by her house to show their appreciation for the impact she had on their lives.
It was clear what a tremendous loss it would be to so many if this mother of three, wife, daughter and teacher did not find a kidney in time. "I remember watching the report and doubling my resolve to stay on the living donor path so I could help someone in a tough situation," Keith said.
As it happened, the person he helped was her! By the end of 2020, Keith was eligible to donate, and Jenni's time on the waitlist ended when they matched. The living donor transplant surgery soon followed on February 25, 2021, at Barnes-Jewish Hospital. As Keith said, "Dr. Wellen told me that I'd saved a life, but actually, the act of donation enriched my life in a way that no words can express."
Both patients recovered quickly. Six months later, they met over lunch at Rigazzi's on The Hill, where giant fishbowl mugs weren't even big enough to hold the tears of joy and gratitude that flowed that day. Jenni's and Keith's families remain close. The two text each other on the 25th of each month as a reminder of the gift they share.
Fast forward to 2023. At age 60, Keith wasn't looking for a career change. However, as part of the Mid-America Transplant Facebook community, he saw an opportunity he couldn't pass up. He quickly applied – and was hired – as an inventory control coordinator. By keeping the operating room and other departments supplied, Keith helps steward the gift of life from generous organ donors and their families to the waiting recipients who match.
"Working at Mid-America Transplant is the very definition of 'connected work'," Keith said. "You see a different aspect of life and heart-wrenching situations. But, everyone here understands they have a part to play in something good that comes out of a tragedy."
If you, like Keith, feel a calling toward connected work, consider joining an organization committed to a lifesaving mission and find a rewarding career with Mid-America Transplant. View our current job openings.