"Have you ever had a scenario where a job finds you and it's a perfect fit? That's what it was like for me with Mid-America Transplant," said Claudia, shift supervisor for Mid-America Transplant's Donor Services. "I could talk about what we do for hours because I'm so passionate about it."
That passion started for Claudia when she worked for St. Louis Children's Hospital for five and a half years in pre- and post-operative surgical care and then moved to outpatient care working with pediatrics. "I actually used to work with kids who were organ recipients," she said. "I didn't know that the organs that my kiddos at Children's were getting came locally from an organization that was literally a 10-minute drive down the street. I was absolutely shocked!"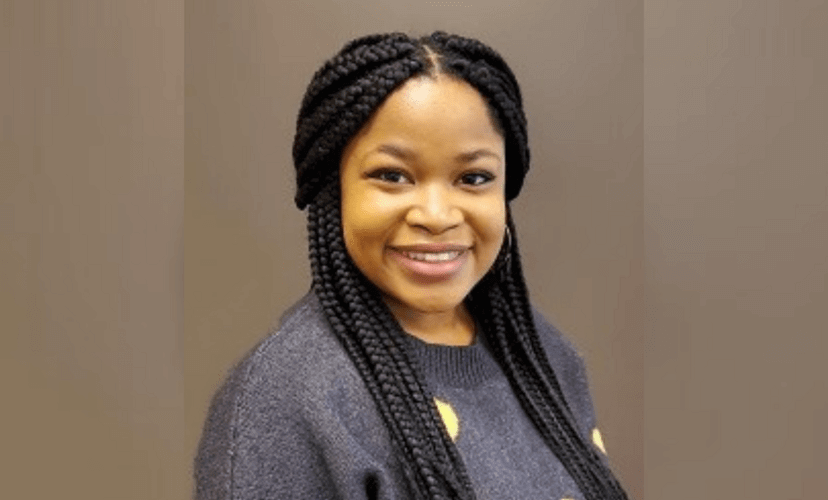 Claudia's previous experience truly prepared her for the job because she was already in the medical field and had experience working with families touched by organ donation. "You don't even think about it being a whole different branch of the medical field," she added. And even though organ, eye, and tissue donation is a different side of the medical field she was in previously, Claudia's diverse skill set allowed her to really shine in the role.
For one, organ and tissue donation is fast-paced, which is something that Claudia really appreciates. "In the medical field, everything is always changing so fast," she said. "And of course there are time constraints for literally everything we do involving organ and tissue retrieval. You have to be on your toes, paying attention. I feel like I do better in that type of atmosphere because I thrive under pressure."
And having the sensitivity to work with grieving families was also something Claudia learned how to do in her previous position. "Having that past experience in pediatric hematology and oncology really prepared me for this role. I used to have kiddos that were obviously not doing too well or who would eventually pass from their illness and so I've worked with grieving families. It wasn't new to me to be able to talk with families or help them through an unimaginable time."
Communication and teamwork are also critical components of a role in donor services. On any given day, Claudia may be tasked with assessing the eligibility of a patient for tissue donation, talking with nurses at area hospitals, speaking with medical examiners, coordinating tasks with funeral directors, etc. "You don't realize how many organizations and groups of people are part of the overall mission," she said.
A large part of Claudia's role involves discussing with family members the opportunity for their loved one to share the gift of life. . "Some people think we only reach out to families of patients who are already signed up on the donor registry," she said. "We actually reach out to any family member of an eligible person whether they're on the registry or not because we want to extend that opportunity for a loved one to become a donor and leave a lifesaving legacy."
Not only is good communication required for external relationships, it extends to Claudia and her team, too. "My department collaborates with other departments. Donor services is the first touch point for cases but then we must work together to make sure everyone has what they need. With our organization and what we do things are often changing. And sometimes there are going to be things that may not be your forte but knowing how to utilize your resources and having strong communication is very important," she continued. 
It's a challenging role but one that affords Claudia so many opportunities. "You have to have a growth mindset," she said. "In the two years I've been with the organization, I've been promoted twice. Everyone is really open minded to learning, innovating, changing processes, etc. It allows me to feel like I'm staying up-to-date on my skills and have room to grow even more."
At the end of the day, selflessness and a passion for nurturing relationships is a must for furthering a mission like organ and tissue donation. "There's a lot that goes into what we do here," Claudia said. "Donor tissue doesn't just enhance people's lives, in some cases it saves lives. And we're here day or night, 24/7, getting it done. From the first time someone comes into contact with our organization to the very end of the process, and sometimes months later, our number one goal is making sure that the families are taken care of."
For anyone interested in becoming part of the mission, Claudia says to do your research. "You can hear from other employees how they feel about working here," she said. "But then check with people outside of the organization to see how their experience was."
It may not have been what she was expecting, but for Claudia, the career change felt right from the start. "I don't like to slap the name 'job' on it because it's so much more than that. I wasn't specifically looking to get into organ and tissue donation but it came full circle for me. I definitely see myself here long-term." 
If you, like Claudia, feel a calling toward organ and tissue donation, consider joining an organization committed to a lifesaving mission and find a rewarding career with Mid-America Transplant. View our current job openings.