For third grade teacher Cindy, Christmas of 2021 was an eye-opening moment in her decades-long struggle with liver deterioration.
Cindy's husband Jim noticed that she had seemed tired and confused that day. Worried, Jim helped get her settled in bed and came back later to check in. Upon entering the room, Jim saw Cindy face down on the floor, unable to move her head or even open her eyes. Jim thought she'd had a stroke. "It was scary," he said.
Cindy and Jim spent the rest of the Christmas holiday in the hospital. She was eventually released, but the incident was frightening enough to convince them that Cindy needed to get her name on the liver transplant list right away. She'd hesitated for years, because she'd hoped to get both of her children (now 19 and 22) through high school before taking that step. After that Christmas, the family knew that prolonging the decision wasn't an option any longer. "We were scared that she would get extremely sick to the point where it would be a struggle to go through transplant," Jim said.
Persistence in the face of a challenging condition
When her children were very young, Cindy was diagnosed with primary sclerosing cholangitis (PSC), a condition that required her to travel regularly from Arkansas to Memphis, and later to St. Louis for treatment and monitoring. Some years, she would feel relatively healthy. Others, she would be in and out of the hospital. Despite the difficulties, she continued to teach elementary school students and remained active in her own kids' lives. She focused on being the best mother possible and made it to many of her kids' swim meets and other activities. "I hope that those are things that they'll remember. I don't want them to remember mom not feeling good all the time," she said.
As her kids got older, Cindy's illness, and the physical pain it caused, became more severe. She developed a hernia, abdominal swelling caused by accumulation of fluid, and struggled with chronic fatigue.
Receiving a Christmas miracle
Nearly one year after her terrifying Christmas Day ordeal, Cindy got the call that everyone on the transplant list yearns to receive. She recalls that Friday, December 16, 2022 was a beautiful sunny day. When she got the news, her bag was already packed for the 4-hour journey to the hospital, and she and Jim left immediately after saying goodbye to the kids.
When they arrived at Barnes-Jewish Hospital in St. Louis, they received a warm reception. "Everyone was just so excited because they knew that I was getting a transplant," Cindy said. "They shared our excitement and our joy in the blessing."
After her successful liver transplant, Cindy moved into the Mid-America Transplant Family House, an apartment-style living facility available to transplant patients and their families. "This has been a blessing to us," she added.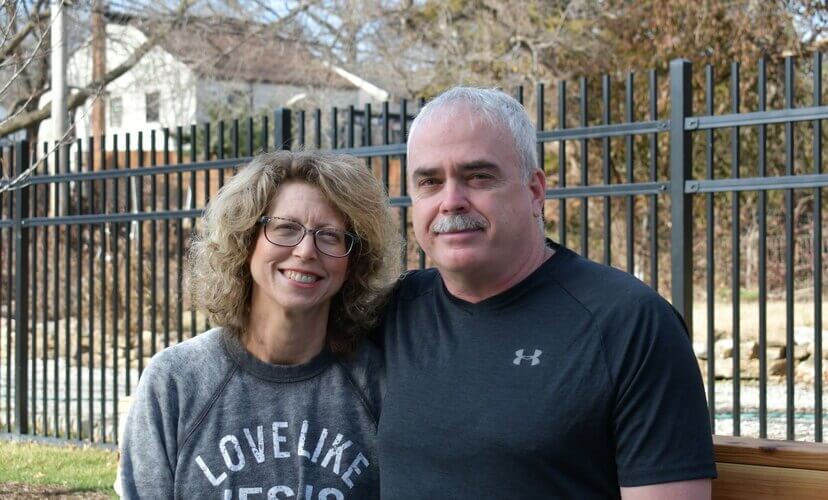 October is National Liver Awareness Month
Cindy was on the waiting list for a liver for nearly a year, despite her rapidly declining health. October is National Liver Awareness Month and one of the best things you can do during the campaign is to educate yourself on liver health. Take a moment to check out guidance from the American Liver Foundation regarding signs of liver disease and ways to prevent it.
Signs of liver disease include:
Skin and eyes that appear yellowish (jaundice)
Swelling in the legs and ankles
Loss of appetite
Abdominal pain and swelling
Itchy skin
Nausea or vomiting
Tendency to bruise easily
Dark urine color
Pale stool color, or bloody or tar-colored stool
Chronic fatigue
Ways to protect your liver (aside from having a genetic condition):
Watch your weight, eat a balanced diet, and exercise regularly to avoid diseases like Non-Alcoholic Fatty Liver Disease (NAFLD).
Eat healthily from all food groups, including fresh fruits and vegetables, whole grain breads, rice, and cereals. Limit fats.
Limit the amount of alcohol you drink. (Alcohol can damage or destroy liver cells.)
Manage your medications. Pay attention to warnings that say that a medication can damage the liver.
Avoid breathing in or touching toxins, such as cleaning and aerosol products, insecticides, and chemicals.
Do not smoke.
Saved by the life-saving gift of organ donation
Just before Christmas of 2022, Cindy Byrd got a second chance at life because of the generous decision of an organ donor. She has not met the family of the donor yet but hopes to in the future. "For your family to know that your loss helped someone else has to be comforting, I would think," she said. "It's a silver lining in their time of grief and sorrow."
And at the end of the day, she is incredibly thankful to have been given this opportunity. "I'm still in awe that it even happened. I feel like God has given us another chance, and he's just not done with us yet," she added.
Passing on the gift of life and becoming someone's hero is as easy as registering as an organ, eye, and tissue donor. Sign up for the donor registry and increase the chance that patients like Cindy will get the transplants they need to survive.